INFORMATION HERE IS ABOUT 2016 PERFORMANCES
CLICK HERE FOR DIRECTIONS & PARKING INFORMATION
5pm show on Sunday, October 16 is sold out
Spend a night with those masters of the macabre, William Shakespeare and Edgar Allan Poe. Get into the spirit of the spooky season as Delaware Shakespeare actors read bone-chilling selections from plays, prose, and poetry … including both old favorites and a few new twists and turns. Now in its fifth year, our autumnal tradition expands to include tales from cultural traditions outside the western canon.
Dare to choose between three remarkable performance venues – the gothic halls of Rockwood Mansion, the grandeur of the Read House & Gardens in Old New Castle, or the colonial-era Stone Stable in Historic Odessa. But choose quickly! There are only 30 seats available for each performance. In 2015, many performances sold out.
October 14-16 and 22-23   Tickets $18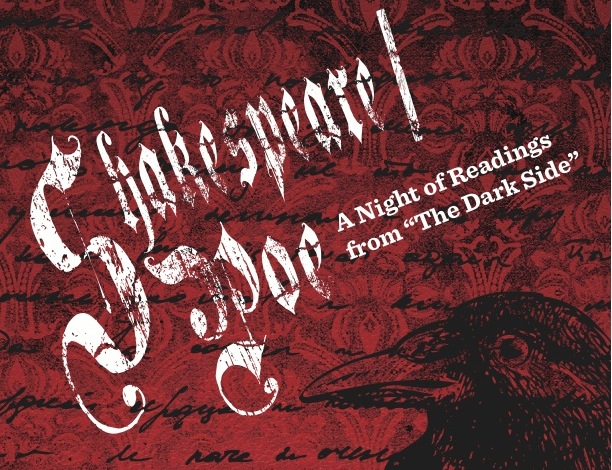 The evening lasts approximately one hour.
Stone Stable (Historic Odessa) Friday, October 14 at 7:30pm
201 Main Street
Odessa, DE 19730
Read House & Gardens Saturday, October 15 (BOTH PERFORMANCES SOLD OUT) and 22 at 6:00pm and 8:00pm
42 The Strand
New Castle, DE 19720
Patrons can add a mini-tour of the Read House for $2. Tour begins at 45 minutes before the performance.
(Make your spooky night complete by taking the New Castle Historical Society's Hauntings in History Walking Tour following the 6pm performance. Tours are available at 7:30pm and 8:30pm. CLICK HERE for more information.)
Rockwood Mansion Sunday, October 16 and 23 at 5:00pm and 7:00pm (5pm 10/16 PERFORMANCE IS SOLD OUT)
4651 Washington Street Extension
Wilmington, DE 19809
Special Thanks to our partners at the Delaware Historical Society, Historic Odessa Foundation, and New Castle County.