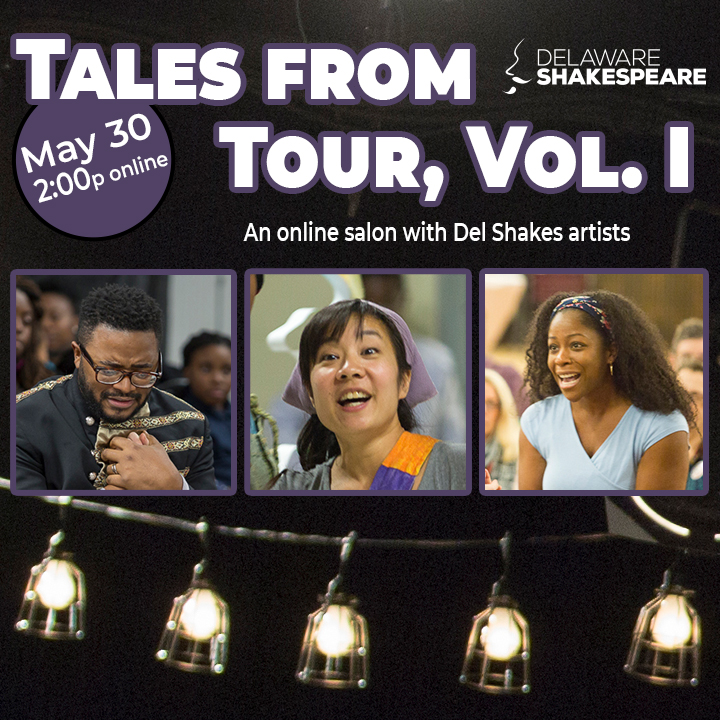 An online salon with three actors from Del Shakes Community Tours, sharing stories from the road and bringing Shakespeare to all!
Ever wondered how Shakespeare performances are received in prisons? In homeless shelters? At the Delaware Psychiatric Center?
In this interactive discussion, actors Newton Buchanan, Danielle Leneé, and Bi Jean Ngo tell of their transformative experiences sharing Shakespeare with the full spectrum of humanity – up and down the First State.
During the Del Shakes Community Tours, actors meet members of the audience where they are (literally and figuratively). The experience is unique for our actors: the performances reach new levels because of the audiences, and perhaps in spite of the nature of the venues.
Join us, and you'll hear what happens when:
– audience members talk back
– a laugh riot almost breaks out at Baylor Women's Correctional Institution
– improvisation creates once-in-a-lifetime moment
This event will be a virtual gathering via the online video conferencing platform Zoom.
Once you purchase a ticket, you will be provided with a link to the Zoom meeting. Join the meeting at the time of the event from a device (computer, tablet, or smartphone) with microphone and speaker.