As part of Delaware Shakespeare's journey to become an antiracist theatre company, we offer these two online discussions looking at the role race plays when casting and conceiving Shakespeare productions. Both of these events are "pay-what-you-decide." Registration is free for the Zoom program. Immediately after the event, you'll be sent a link inviting you to pay what you decide the program was worth to you (or, what you are able to pay).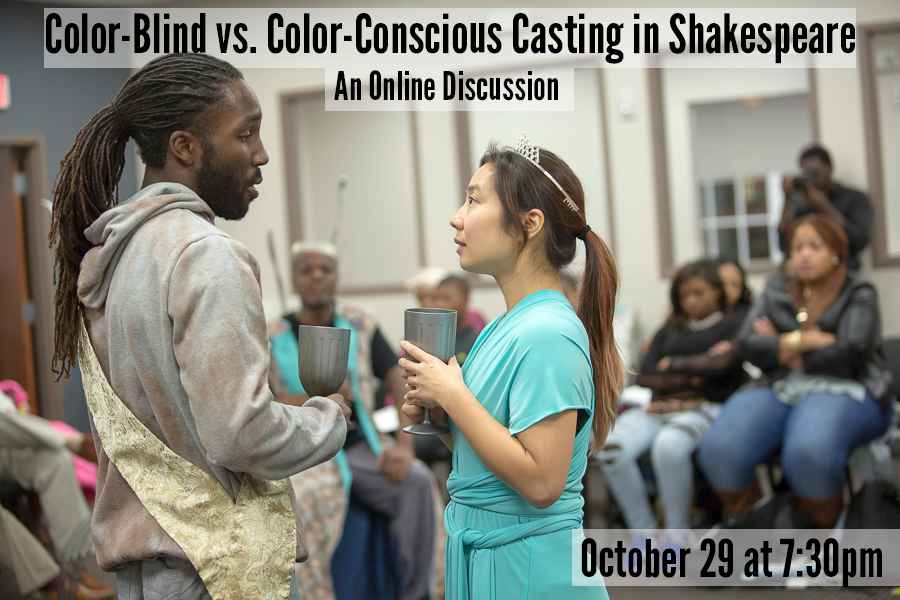 Color-Blind vs. Color-Conscious Casting in Shakespeare
Thursday, October 29 at 7:30pm
Online via Zoom
Pay-What-You-Decide
For Shakespeare theatre companies that wish to diversify casts beyond a white "default," two casting theories can be helpful to consider. Color-Blind Casting advocates for casting the best actor for a part, regardless of race. Color-Conscious Casting advocates for not only casting he best actors in a role, but also being conscious of the story that is told by using actors of specific races in specific roles. This panel will consider the positives and negatives of both approaches, with BIPOC actors, directors, and producers sharing their own casting experiences.
Panelists: Newton Buchanan, J Hernandez, Bi Jean Ngo, and Tai Verley
Moderator: David Stradley
---
Culturally-Specific Shakespeare Productions
Monday, November 23 at 7:30pm
Online via Zoom
Pay-What-You-Decide
Shakespeare productions frequently include a "concept" of setting plays during different times and places – such as a Wild West The Taming of the Shrew. But there is a long history of non-white acting companies creating productions that view Shakespeare through their specific cultural lens. This panel will look at some contemporary examples and explore what unique and meaningful insights arise from this approach.
Panelists:
Debra Ann Byrd, founder of Harlem Shakespeare Festival
Tanaquil Márquez, writer and director of Del Shakes' Latinx musical adaptation of Twelfth Night
Gina Pisasale, dramaturg for Oregon Shakespeare Festival's 2016 The Winter's Tale told from an Asian and Asian-American Perspective
Madeline Sayet, founder of Native Shakespeare Ensemble at Amerinda
Moderator: Bi Jean Ngo