"Knowing that I lov'd my books, he furnish'd me from mine own library with volumes that I prize above my dukedom."

– The Tempest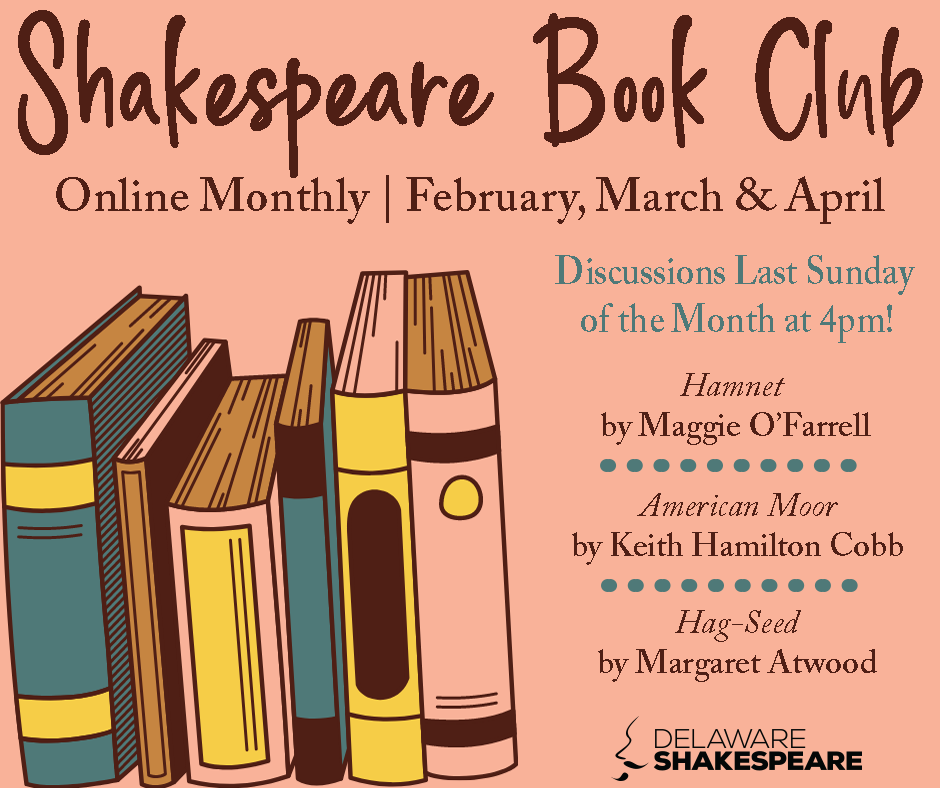 As winter turns to spring, join Del Shakes for a monthly book club diving into the world of Shakespeare-inspired literature. These online Zoom discussions will be held the last Sunday of the month at 4pm.
Book Club meetings will be pay-what-you-decide events. You must obtain your own copy of each book.


Hamnet by Maggie O'Farrell
Sunday, February 28 at 4pm

This work of historical fiction is the current darling of the Shakespeare world. An exploration of marriage, loss, grief, and art, O'Farrell shows us the early days of the marriage of Shakespeare and Anne Hathaway (known here as Agnes) – and their later struggle after the death of their twin son, Hamnet.

Buy Hamnet Here
Register for the Hamnet Book Club Here
---
American Moor by Keith Hamilton Cobb
Sunday, March 28 at 4pm
A Black actor auditioning for a young white director casting the role of Othello is the spark for this searing play. Del Shakes staff viewed an archival performance recording at a recent Shakespeare conference and are excited to continue the conversation sparked by this play about race, theatre, and America.
Register for the American Moor Book Club Here
---
Hag-Seed by Margaret Atwood
Sunday, April 25 at 4pm
A high profile theatre director who has fallen from grace stages a Shakespeare production in a Canadian prison in this reimagining of The Tempest. Is Felix searching for revenge or redemption? This Book Club discussion will feature Del Shakes teaching artists sharing their own insights on working on Shakespeare in correctional institutions.