Tuesday, October 16
6:30pm: Courtroom opens
7:00pm: Arguments
Wine and dessert reception follows
Delaware Law School
Ruby R. Vale Moot Courtroom
4601 Concord Pike, Wilmington
All tickets $100
CLICK HERE for tickets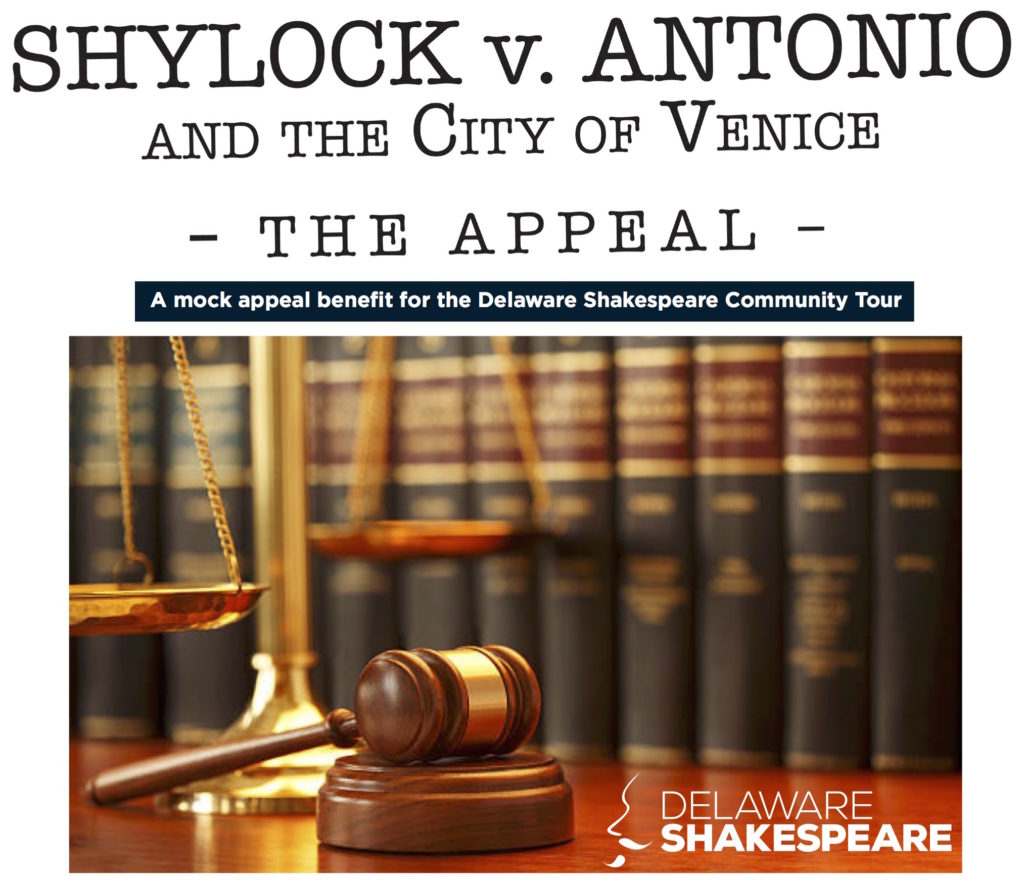 Stars of the Delaware legal community gather to argue the law behind the Bard's most famous trial scene. This mock appeal will explore questions of law and social justice relevant to The Merchant of Venice, sure to be an intriguing evening whether or not you're a member of the bar.
THE BENCH
Justice Randy J. Holland, presiding
Judge Susan C. Del Pesco; Judge Chandlee Johnson Kuhn; Vice Chancellor Donald F. Parsons, Jr.; Judge Charles H. Toliver, IV; Judge Aida Waserstein; Judge Robert B. Young
THE ADVOCATES
Counsel to the Petitioner, Shylock
Rodney A. Smolla, Delaware Law School
Counsel to the Respondent, Antonio
Kathleen Furey McDonough, Potter Anderson & Corroon
THE FACTS OF THE CASE
THE MERCHANT OF VENICE, Antonio, obtains a loan from Jewish money-lender Shylock in order to help his friend Bassanio win the hand of the lovely Portia. After two of Antonio's ships are lost at sea, he defaults on the loan. Shylock sues for his bond, an agreed-upon "pound of flesh" that both parties had established as Antonio's contractual obligation for nonpayment. Portia, in disguise as a legal expert, rushes to defend Antonio. The court finds in favor of Antonio, and further orders Shylock to forfeit his wealth for conspiring to murder a Venetian citizen.
THE APPEAL
Our accomplished advocates will argue the appeal to a bench of seasoned judges. Was the system unfairly biased against Shylock because he is a Jew? Was his "pound of flesh" a penalty too usurious, too harsh under the law? Hear their arguments and make your own decision!
SaveSave
SaveSave