After the first week of rehearsals for The Comedy of Errors, several cast members offered up thoughts to two questions about the progress to opening night.
What was something interesting you discovered about your character this week?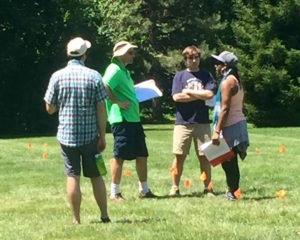 LUKE BRAHDT
This week, I really thought more about Antipholus' soldier background and how that plays into the way he treats people. He expects to be obeyed. Not in a rude way, but simply that if he states the plain facts, they will be accepted. He is a straight talker, and he gets right to the point.
CHASE BYRD
Dromio of Ephesus is incredibly funny, but he doesn't always mean to be. Unlike his twin, Dromio E. has a bit more of the "situational humor" and is a bit more slapstick. He's a bit simpler, not as worldly wise, but still got a bit of sauciness to him as well.
SEAN CLOSE
Dromio of Syracuse certainly cannot take the unexpected in stride. Just under the surface of the wise-cracking veneer, he is at "fight or flight," or rather "no fight, but scream and flight and have a meltdown."
FRANKIE GALLUCCI
Shakespeare never directly states that Courtesan is indeed a lady of the night. We are clued into her wild side through Antipholus of Ephesus' depiction of this "wench of excellent discourse" but she is never seen partaking in any sexual shenanigans. Courtesan is witty, endearing and a force to be reckoned with.
SAVANNAH JACKSON
Luciana has very specific opinions about marriage and loyalty. Due to Shakespeare's colorful language, I was able to discover how bold and strong this woman is.
JAMES REILLY
The most enlightening discoveries for me actually came during our apprentice improv rehearsal, where I did some improvised monologuing in character as Balthasar. I think the most important thing about the scene I'm in is building the nature of these relationships (that is, those between Angelo, Balthasar, and Antipholus E.) and creating stakes that will heighten the comedy of the locked door scene. By finding the stakes that create the most NEED to get that door open, the scene will become increasingly comedic in its franticness.
ABDUL SESAY
The First Merchant is a committed business man, but also shows compassion to a foreigner from a rival nation.
TWOEY TRUONG
One of my characters is greatly concerned with reputations and being admired by others.
J.J. VAN NAME
During our table work, David asked what the Abbess might think of Adriana being so upset/complaining about "her husband's" bizarre behavior – how she might give her advice, as one who lost her own great love so suddenly and traumatically.  This very astute question shed more light on the potential quality of my character's  reaction to Adriana – and on me as well, opening up an avenue about my own related experience, to bring to the Abbess.
BOB WEICK
Working the opening scene, in conversation with David, a new and dynamic idea arose. The sense that Egeon  is telling his tale not just because he is commanded to by the Duke. No much more than that, he wants this story to be heard and remembered by all present. In the hope that someday, by chance, his lost family will hear the tale and know Egeon risked his life to go ashore in Ephesus to try and find the ones he loved. They, his children, his wife, were never forgotten.
The stage for The Comedy of Errors is a 64′ long and 8′ wide runway, with the audience seated on two sides. What did you learn about performing on that long of a stage?
LUKE BRAHDT
I learned that on a stage like this, it is important to  play the diagonal, and that it is okay to take an extreme front to an audience. It's a different style of cheating out then I am used to.
CHASE BYRD
This is my first experience with a runway stage as well as my first experience with outdoor theatre. Add to those facts that it is outdoor SHAKESPEARE theatre and that the stage is 64′ long and one word in particular stands out: Stamina. Shakespeare text already demands a great deal of breath and tone control to achieve a balance of humanity and heightened language. But when you include entrances and exits that take several extra yards to make, not to mention the demanding physicality of the Dromio characters, the actor must be keenly aware of pacing himself and not blowing out his voice in the first few scenes. I know that I will also have to pay particular attention to physical and vocal warm-ups ever night in order to honor the character and the text, and to keep myself healthy throughout the run.
SEAN CLOSE
I learned that on a 64′ long stage, no physical business is too big. And that slapstick antics and comic fights need to be extra big. Though it may feel strange on stage (like there's no way an audience will buy this), from off stage, I realized it's the ONLY way that an audience will buy this.
FRANKIE GALLUCCI
Strut with purpose! There is no lollygagging in Ephesus!
SAVANNAH JACKSON
The runway stage requires all of the actors to share this story at every different angle. I also have one instance where I run off of the stage, ecstatic with news of love; it is kind of exhilarating because the stage is 64 feet long. The real challenge is making sure I do not upstage myself or one of my cast-mates!
JAMES REILLY
Every convention of theatre feels heightened on this platform: playing out, vocal/speech related intricacies, and the necessity of playing diagonals. I also found that in many cases I wanted to go closer to my scene partners, but I found that it worked better to simply use my voice to command the space. Since there is such a lengthy space to cover, moving even a little bit creates distraction, and one must move a great deal if there is any action behind the movement. Thus, it is best to use the voice rather than the body to command attention.
ABDUL SESAY
Performing on a long runway means that the audience is split in two. To keep the entire audience engaged, one should play to both sides of the stage.
TWOEY TRUONG
I can allow myself to play with distance and still connect with other characters and tell the story.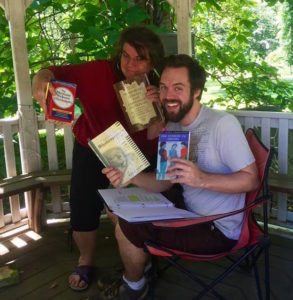 J.J. VAN NAME
I'll tell you next week! (J.J.'s character appears in the final scene.)
BOB WEICK
I found the "limit," the narrow confines (from side to side) of our playing area enhanced the sense of entrapment as I played Egeon. He's caught. There is no escape. He's surrounded. And so, to a degree, I think  as we continue to develop this opening moment, it will fuel his passionate telling of this "hopeless and hapless" circumstance.
OTHER CAST UPDATES
Week Two
Week Three