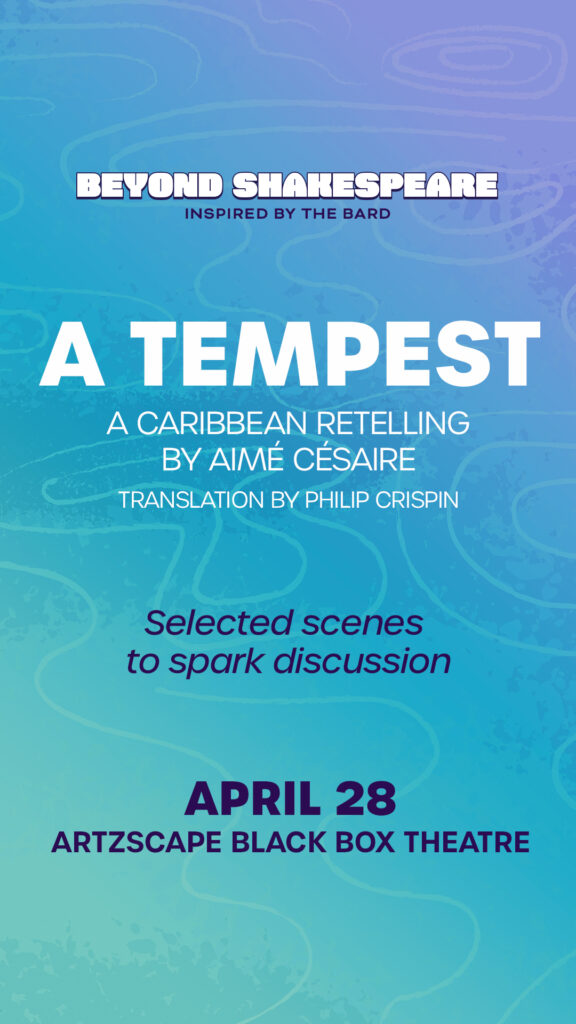 A Tempest
by Aimé Césaire
Translated by Philip Crispin
Thursday, April 28 at 7pm
Pay-What-You-Decide
ArtzScape Black Box Theatre
205 N. Market Street
Wilmington, DE 19801
Césaire sets the play in the Caribbean, and positions Caliban and Ariel as representing different modes of resistance to a colonial power. While keeping the plot of Shakespeare's The Tempest mainly intact, the play gives new vitality to the themes of freedom and liberty. This program will feature readings of selected excerpts, interspersed with audience discussion on the impact of Césaire's creative choices.
Directed by Mariah Grant
Featuring Brennen Malone, Eric Mills, Gabe Moses, Joe Penn, and Satchel Williams.
Including commentary by Dr. Myrna Nurse, Delaware State University.
COVID-19 AUDIENCE POLICY
Masks will be required for all audience members. Actors will be unmasked, but will be fully vaccinated and engaged in testing protocols.
ABOUT AIMÉ CÉSAIRE
Césaire (1913-2008) combined a political career as a Martinican statesmen with a poetic calling in which he was hailed as the leading francophone poet of the twentieth century. Anti-colonialist visionary and prophet of negritude, his influence has been considerable in shaping ongoing post-colonial debate. A Tempest was originally performed in 1969.