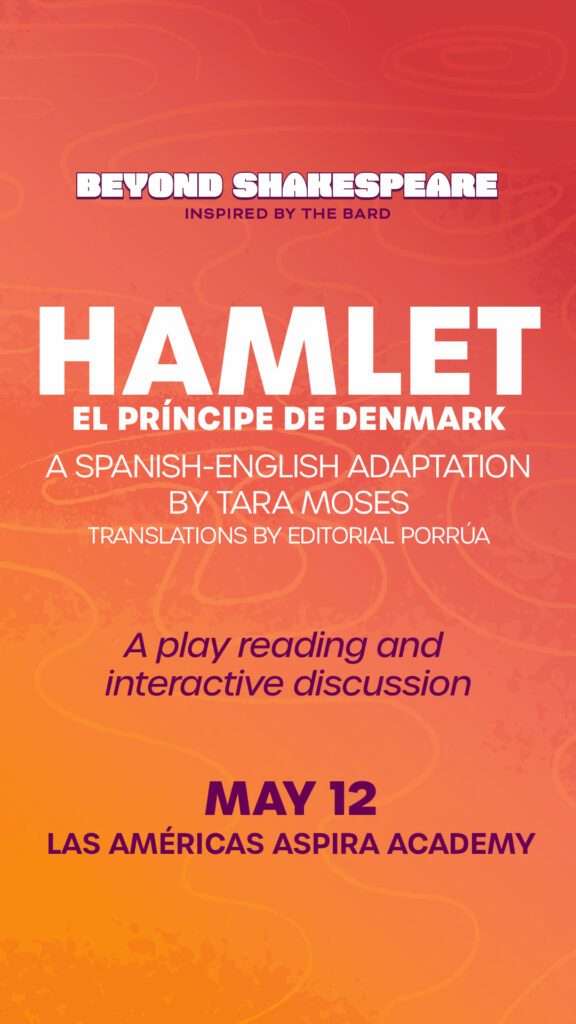 FOR INDIVIDUALS ATTENDING: The performance will be held at the East Campus of Las Américas ASPIRA Academy, 326 Ruthar Drive, Newark, DE 19711. The school is located on the corner of Red Mill Road and Ruthar Drive, across from the UPS Customer Service Center.
Once you enter the school parking lot, drive behind the building. You will park at the rear of the building and enter through the rear Pond View entrance.
Driving Directions can be found at https://www.aspiraacademy.org/apps/contact/
Hamlet: El Príncipe de Denmark
Adapted by Tara Moses
Translations by Editorial Porrúa
Thursday, May 12 at 6:30pm
Pay-What-You-Decide
Las Américas ASPIRA Academy
326 Ruthar Drive
Newark, DE 19711
In this Spanish-English adaptation, Moses places the action during the Indigenous Mexican holiday of Día de los Muertos. As in Shakespeare's play, Hamlet must decide whether to revenge his father's death. But with the added layer of language, Hamlet now also struggles with questions of how to preserve his culture while a new regime attempts to erase it. Prior to our fall Spanish-English musical adaptation of Twelfth Night, see how another writer weaves a bilingual story from Shakespeare.
Del Shakes will present a reading of the full play, followed by an audience discussion on the impact of the adaptation.
Directed by Tamanya M. M. Garza
Cast: Lorenza Bernasconi (The Ghost), Doménica Castro (Horatio/Rosencrantz), Alexandra Espinoza (Hamlet), Paloma Irizarry (Ophelia), Daniel L. Melo (Laertes/Player 3), Stephen Perkins (Male Chorus), Elijah Primero (Polonius), Soli Riquelme (Female Chorus), Krystal Rosa (Bernardo/Guildenstern), Anjoli Santiago (Gertrude), Gilberto Vega (Claudius)
Percussion: Karen Smith
COVID-19 AUDIENCE POLICY
Masks will be required for all audience members. Actors will be unmasked, but will be fully vaccinated and engaged in testing protocols.
ABOUT TARA MOSES
Moses (she/her) is a citizen of Seminole Nation of Oklahoma, Mvskoke, director,  multi award-winning playwright, Artistic Director of Red Eagle Soaring,  co-Founder and Senior Producer of #Binge,  and co-Founder of Groundwater Arts.  Moses participated in Del Shakes' 2021 virtual panel, "De-Colonizing Shakespeare."
Moses is also a dramaturg, consultant, and beadwork artist. She is from the Muscogee Creek Reservation and currently based on Narragansett Land or what is colonially known as Providence, RI. Learn more at taramoses.com.