DSF will announce the production for the second annual Delaware Shakespeare Community Tour early this spring.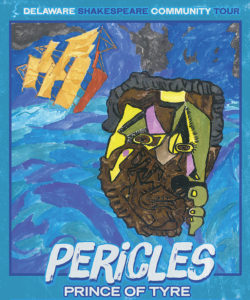 In November 2016, DSF launched its new Delaware Shakespeare Community with Pericles, Prince of Tyre. The production traveled throughout the state bringing thrilling, professional Shakespeare to those with little or no access to the arts.
The tour also included four ticketed performances at Delaware History Museum.
CLICK HERE for more information about the free tour performances hosted by community organizations, many of which were open to the general public.
Community Tour productions play in non-theatrical settings such as multipurpose rooms, cafeterias, and gymnasiums. The production values are scaled for those spaces, with live music, minimal sets, and whatever lighting is available. The productions are performed with a cast of 8-9 actors and a musician.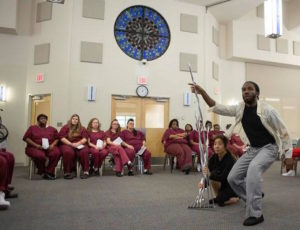 The Community Tour, partially supported though a $95,000 challenge grant from the Longwood Foundation, is the most significant new undertaking since DSF's founding. It is based on the innovative performance model of Ten Thousand Things, a Minneapolis theater company that has been bringing professional theatre, including Shakespeare, to people with little access to the wealth of the arts for more than 20 years. DSF joins a recent group of theatres, including three of the most prestigious Shakespeare companies in the United States, that are adapting the model for their own communities.
Community Tour Lead Sponsors: Longwood Foundation, Crestlea Foundation, Welfare Foundation
Pericles Honorary Producer: Laurel A. Riegel