Delaware Shakespeare offers summer internships for high school actors who are interested in learning more about Shakespeare and being a part of a wonderful Delaware summer tradition. This is an incredible opportunity to be a part of our Summer Festival, getting an inside view of a professional theatre company working on one of the greatest plays ever written. In 2017, you can go behind the scenes as Delaware Shakespeare creates its production of Henry V.
Overview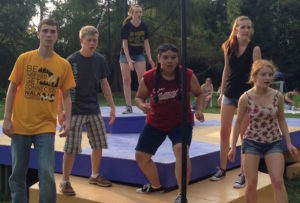 High school interns understudy the roles in the summer festival production played by College Apprentices. If schedules permit, interns are welcome to attend the three master classes offered to the Apprentice Company. All rehearsals for the summer production are open to interns to attend and observe.
Responsibilities
High school interns are asked to:
Attend 2-3 rehearsals a week for Henry V (June 13-July 13)*
Memorize the lines and learn the blocking for their assigned understudy role, having the part prepared by opening night (July 13)*
Create and perform improv-based Shakespeare entertainments that are part of the pre-show Festival activities
Volunteer at least once a week during the three weeks of the summer festival (July 14-30)
Be able to get to Rockwood Park within thirty minutes in case they are needed to perform their assigned understudy role (July 14-30)*
Assist in the distribution of promotional materials
* = Five interns will serve as understudies and have these added responsibilities. An additional 5-7 interns can participate in the program without serving as understudies. We hope this opens the experience to some students who may not be able to commit to being present for every night of the Summer Festival.
To Be Considered
Download the High School Intern Application. Email the completed form to David Stradley at david@delshakes.org. Deadline for applications to be submitted is May 15, 2017. Auditions will be held on Thursday, May 18 from 7pm-9pm.