DSF is excited to announce a program we've created
-"Shakespeare's Playground" – for the City of Wilmington's new Summer in the Parks Series.
On July 31, August 9, and August 10, DSF will be presenting this one-hour interactive program at three different city parks. Wednesday at 1pm, we'll be at Kosciusko Park (Westside at Broom & Sycamore). Events are free – bring your own blankets or chairs for seating.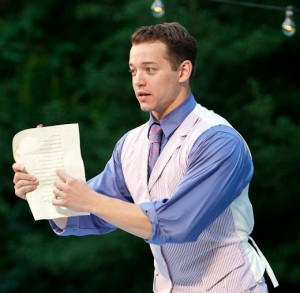 In "Shakespeare's Playground," DSF actors Adam Darrow (Proteus in Two Gents) and Mia Christo (The Winter's Tale) present scenes from The Comedy of Errors and Hamlet. They then take audience suggestions about the best way to perform these scenes using the unique setting of the parks they are in. Weaved in with all of this is other interactive fun – Shakespeare insults, battle cries, and foam sword combat!
Other upcoming performances:
Friday, August 9, 2013 at 1pm
Prices Run Park (Northeast Wilmington at Locust & 23rd Street)
Saturday, August 10, 2013 at 1p,
Haynes Park (Northeast Wilmington – w 32nd & Miller Rd, in between Fulton Paper & Home Depot)