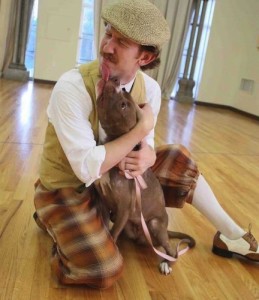 Many patrons have been asking about the success of the partnership during The Two Gentlemen of Verona between DSF and Faithful Friends Animal Society – i.e., how many of the dogs got adopted! Faitfhul Friends supplied various adoptable dogs to play the canine role of Crab in Two Gents.
It is with great joy that we can announce that most of the show dogs and those featured in publicity for the production have been adopted!
Show dogs Prince and Angel have been adopted. An application is pending for show dog Zoe (actor Griffin Stanton-Ameisen's favorite – pictured here).
Two dogs featured in publicity for the production were adopted before even getting the chance to appear on stage – Java and Skylar.
Show dog Chili was adopted, but it ended up not being the right match. He is still available for a loving family to take home!
If you'd like information about adopting dogs or cats from Faithful Friends, please call 302.427.8514.