For Delaware Shakespeare, one of the highlights of the summer was incorporating eight area faith leaders into the performance each night as "Friar Francis." How did they feel their professional theatre debuts? We asked!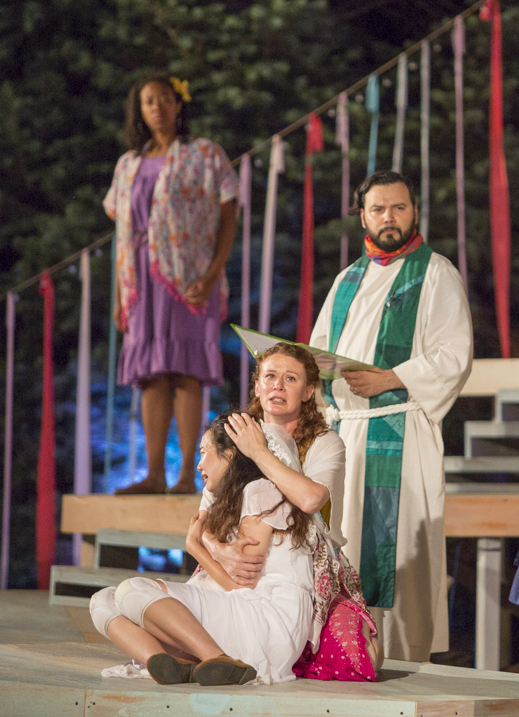 "I've been on stage, I've done that," said Bishop Todd Townsend of The Resurrection Center. "But with Shakespeare, I've been bit. I want to do it again. I contacted Oxford University about doing an online course."
For others, it was more of learning process than a continuation of past stage experiences.
"Every summer I try to do something to 'stretch' myself in a new direction," said Reverend Roberta Finkelstein of the First Unitarian Church. "This summer my stretch was being part of Del Shakes. [Members of my congregation] were proud of me for being 'brave' and appreciated the exposure in the community. It was fun and, yes, it was a stretch!"
For the regular members of the cast, it was a stretch as well.
"I was nervous about how the faith leaders would do on stage," said Michael Fuchs, our Leonato. "In fact, they were fabulous. Several were so full of personal caring and compassion that I felt they were genuinely responding to the fictional anguish on stage during the failed wedding scene."
Faith leaders, in turn, felt a sense of care and compassion from the cast. Father Brian Lewis of St. Joseph on the Brandywine described his experience this way:
"I was welcomed, open-armed, by the entire cast and crew, even though opening night was the first time I met and interacted with them and performed with the ensemble.  Going on stage for the first time, then, was for me, fittingly enough, a leap of faith, having to follow the supportive and compassionate prompts from fellow cast members.  The Much Adocast and crew made me feel immediately welcomed and instantly a member of the troupe, as if I were a beloved citizen of Messina.
It was, in an artistic way but also in a humanly personal way, what we aim to do as a church community of faith: bring one another together, without hesitation, in the embrace of God and His Church."
Cast member Jo Vito Ramirez (Claudio) was likewise deeply impacted by the experience.
"Performing each night with an area faith leader was profoundly rewarding," said Ramirez.  "Each brought their unique authenticity to the role.  Their chutzpah and generosity was infectious and grounding on stage and off."
Speaking of chutzpah, Rabbi Michael Beals may have won the award for having the most congregants show up to support him.
"When David Stradley announced my name as the guest clergy for the evening, the amount of clapping and carrying-on by my congregants filled me with happiness," said Rabbi Beals. "I especially appreciated the latitude to add certain Jewish touches for my performance of the Friar Francis role. It was great for building synagogue morale."
For Rabbi Beals' appearance, a portable chuppah (Jewish wedding canopy) was added for the almost-wedding scene of Hero and Claudio and all the male participants wore a bright orange kippot (Jewish head coverings). How did making these adjustments impact the actors? In interesting ways, according to Fuchs.
The additions, said Fuchs, made "the experience in those performances very different physically, and yet the same emotionally, showing how we are all so similar underneath our variation."
There was one other major adjustment that came about because of a faith leader. When persistent storms made it impossible to perform outside on two nights of our final week, Bishop Townsend of The Resurrection Center offered his church as a rain location.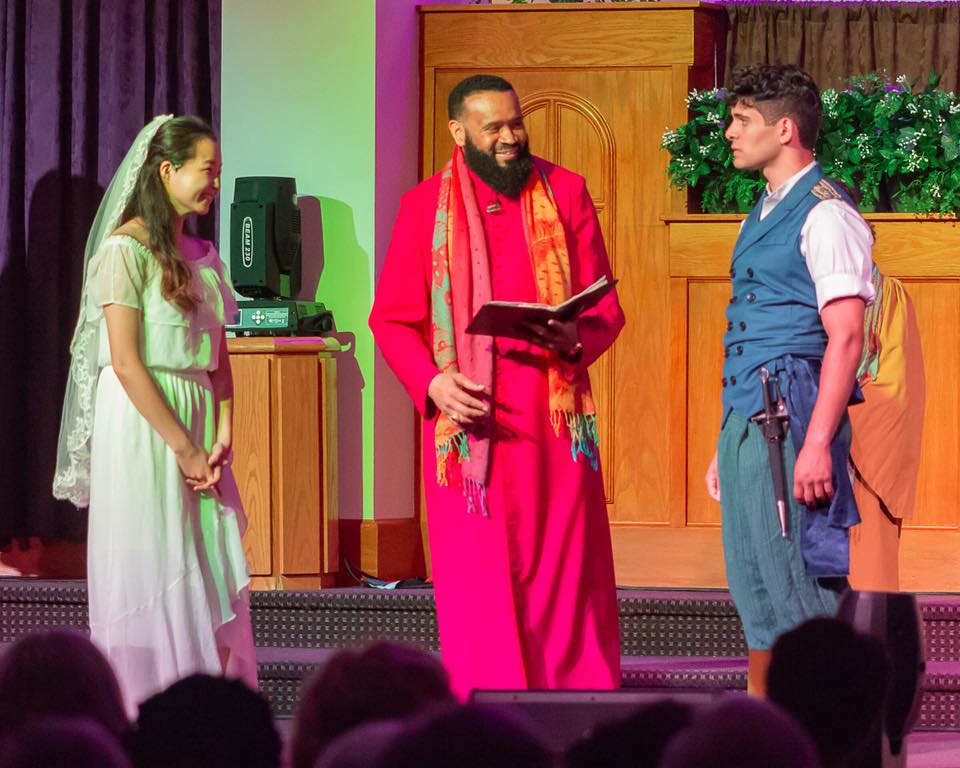 As it happened, Bishop Townsend was scheduled to perform as Friar Francis on our first night at The Resurrection Center and he good-naturedly approved of all the various ways the Del Shakes cast used his space – including J Hernandez as Benedick using the baptismal font as a hiding place during one scene. The experience, however, went beyond simple laughs for Bishop Townsend.
"I have some top pastoral memories in my life," said Bishop Townsend. "The privilege of hosting a performance at The Resurrection Center definitely goes on the list."
For Del Shakes Producing Artistic Director David Stradley, the experience of welcoming faith leaders into the cast joined his list of career highlights as well.
"It was joyous in so many ways," said Stradley. "From seeing faith leaders create bonds in rehearsal with their colleagues in faith to watching them each put their life experience on stage, it was an honor to be a part of making this happen. I was amazed at how deeply invested they each became in the process. It will also always put a smile face thinking of our closing night party when a priest and a rabbi actually did walk into a bar!"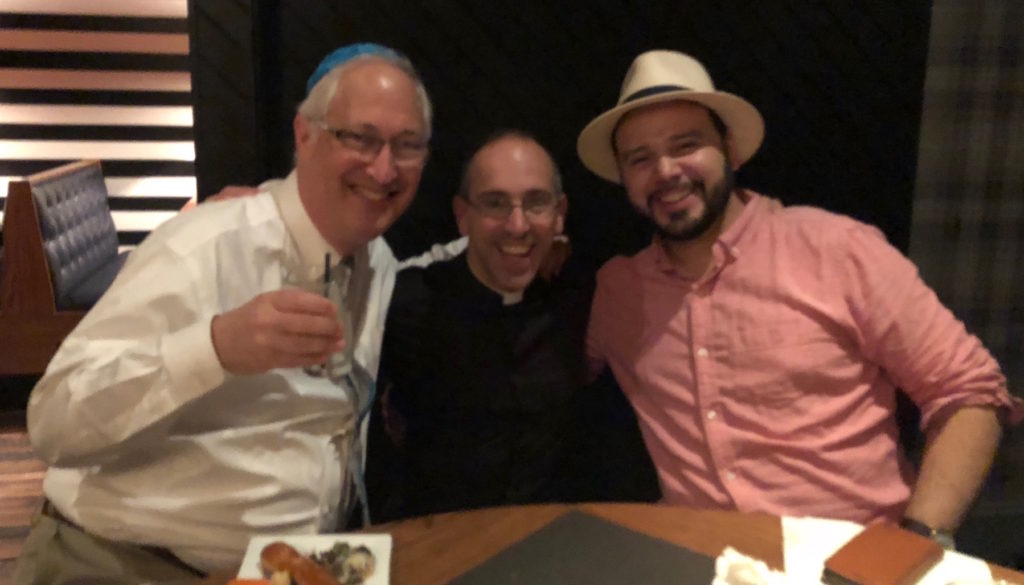 In addition to joy, the faith leaders naturally brought touches of grace to the journey. For instance, Father Lewis shared this spiritual response in an email about the provision of a rain location by Bishop Townsend.
"I'm glad the Resurrection Center provided space for the company of Much Ado; fitting, don't you think, since Hero is 'resurrected,' in a sense, as is Claudio, both in his perception of his beloved Hero and in his own personal character to trust in the virtue of the virtuous.  Also Beatrice and Benedick experience a resurrection, too. No? With their broken hearts filled with new life when they learn the other truly loves them."
Delaware Shakespeare expresses our heart-felt thanks to the eight area faith leaders who took on the role of Friar Francis, and to their congregations for supporting them:
Rabbi Michael Beals, Congregation Beth Shalom
Rev. Edwin Estevez, Grace United Methodist Church
Rev. Roberta Finkelstein, First Unitarian Church of Wilmington
Rev. Emma Horn, First Presbyterian Church of Newark
Rev. Brian Lewis, St. Joseph on the Brandywine
Rev. Tim Rodden, head of Pastoral Services at ChristianaCare
David Savage, a lay leader in The Church of Jesus Christ of Latter-day Saints (Mormons), Wilmington Area
Bishop Todd Townsend, The Resurrection Center