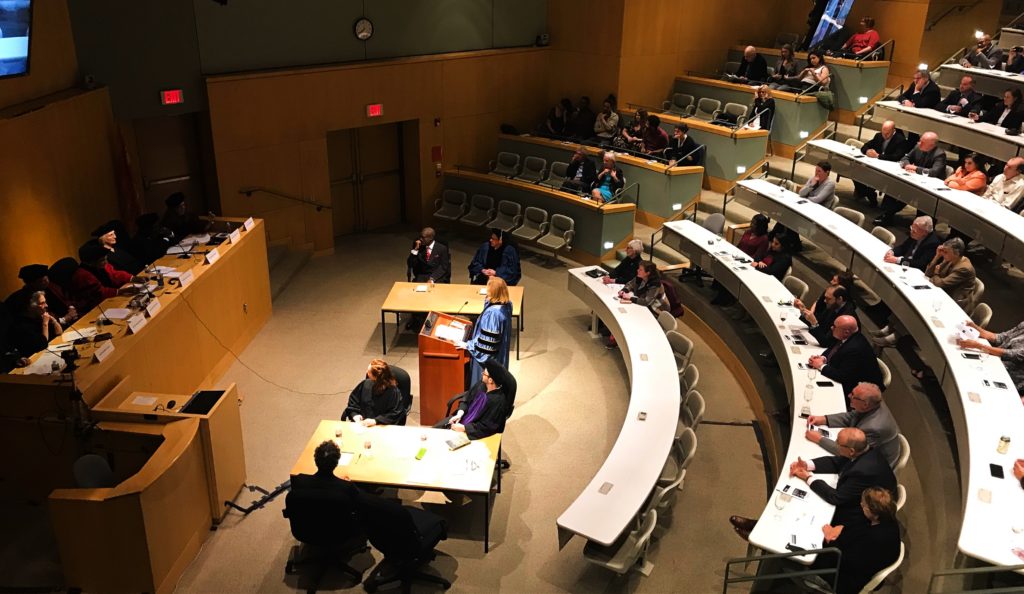 For those of you who couldn't join us at "Shylock v. Antonio and the City of Venice: The Appeal," we can now share the official verdict of the court:
CHIEF JUSTICE HOLLAND
Considering all the equities. We order Antonio to pay Shylock 3000 ducats, to avoid Antonio's unjust enrichment.
We reverse all other aspects of the decision below.  Shylock's fortune will be returned to him by the City of Venice and by Antonio.  Shylock will not be required to convert to Christianity.
So ordered!
Concurring opinions:
JUSTICE DEL PESCO: Anti-Semitism rendered the trial fundamentally unfair.  Shylock never had a chance for impartial justice, given the prejudice against him as a Jew that palpably infected the entire proceeding.
JUSTICE YOUNG: Portia's deception and conflict of interest rendered her actions as a judge a violation of elemental and universal conceptions of fair play and substantial justice.  No person should be judge in his or her own case.  Had she been a real judge, justice would have required her recusal. That she was an imposter only makes that infirmity worse.
JUSTICE PARSONS: The pound of flesh provision in the loan contract was barbaric, unconscionable, and legally void as a violation of human decency and public policy. Commercial breaches should have commercial remedies.  The pound of flesh was no legal remedy; it was an attempt to conscript a court of law as an instrument of torture.
JUSTICE TOLIVER: Yet Shylock, as a plaintiff, was not above reproach. He was blinded by his hatred of Antonio, by the anti-Semitism he endured, and by the estrangement of his daughter. His insistence on enforcing the pound of flesh provision despite offers that would have doubled or tripled his recovery indicates that his actions were motivated by malice. That the source of his malice may be understandable does not mean it is invisible to the law or this Court.
JUSTICE WASERSTEIN: The forfeiture provisions mandated at the end of the trial were unjustified. While Shylock acted wrongly in imposing the pound of flesh condition, if it had in fact been held enforceable by the court it would not have constituted murder of a Venetian citizen, the asserted basis for the forfeiture, but rather a penalty authorized by judicial process.  We find the entire asserted legal basis for the forfeiture unsound.
JUSTICE KUHN: In addition, given the taint of religious prejudice and Portia's misconduct, the forfeitures to the City of Venice and Antonio cannot stand.  It was particularly heinous for Antonio to extract from a broken and defeated Shylock the requirement that Shlock renounce Judaism and become a Christian.  For this Court to be complicit in enforcing such a bargain would run contrary to fundamental notions of religious liberty.