by Gail Obenreder, Arts Journalist-in-Residence
CLICK HERE FOR MORE INFO ON THE STROLL
"A fantastical banquet . . . so many strange dishes!" So says Benedick in Much Ado About Nothing, and he could be describing this summer's Delaware Shakespeare Soliloquy Stroll.
For 15 of its 18 years, Del Shakes has lit up majestic Rockwood Park with an ever-increasing, enthusiastic summer audience sitting among towering trees, attending a Shakespeare play. And for two weeks each July, there's been a buzz of excitement as families and friends follow a winding Park walkway to claim their viewing spot.
Each year's staging has been different and differently oriented, but Festival audiences always gather in the open greensward behind iconic Rockwood Mansion. There, they focus on picnicking, socializing, and of course, the evening's centerpiece – actors playing Shakespeare.
The summer of 2020 has seen that happy buzz disappear, along with other cherished rituals. But Del Shakes was not ready to totally abandon the ensemble's summer tradition. In thinking how he might craft an outdoor offering, Producing Artistic Director David Stradley saw that "the necessity of gathering in small groups allowed us to reimagine how we could still create a powerful viewing experience at Rockwood."
So – along with six actors – he created and directed the company's 2020 Soliloquy Stroll, an hour-long bucolic (and socially distanced) theatre walk. "A soliloquy is one actor alone on stage talking intimately to the audience," Stradley says, so he crafted the Stroll "to magnify what normally happens in a full production during a soliloquy by bringing an actor into close contact with a very small group of people."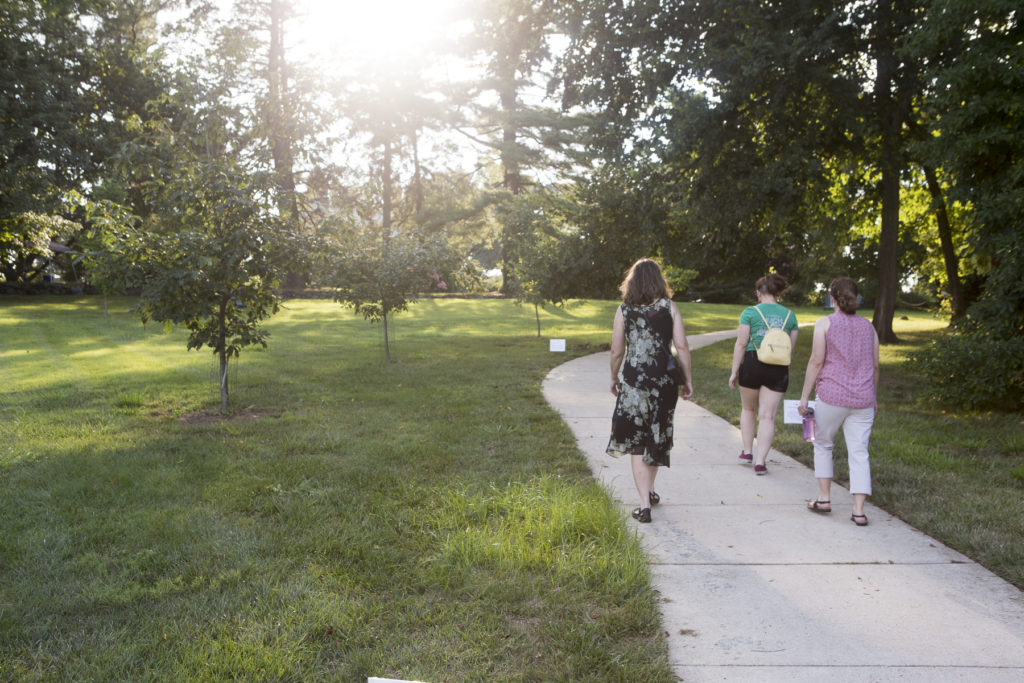 The evening begins as an intimate cadre of viewers (maximum party of four) is greeted at the Park entrance and then guided to six locales where – at each in turn – an actor delivers an iconic speech. Stradley posits that "at the heart of every Shakespeare soliloquy is a question that the actor is asking directly to you, the audience," and for him, that means that this new presentation "has everything we need: an audience, an actor, and a question."
The grand sweep of production might be missing at Rockwood, but this year's offering allows audiences a chance to revel once again in the Bard's language as they visit some less-familiar areas of Rockwood. The Park itself becomes central to the evening's monologues.
First on the Stroll is Doug Durlacher giving the comic Porter's speech at Macbeth's castle portal. Asleep at the Mansion's actual front door, he's roused from his stupor by audience shouts of "Knock! Knock!" (At each stop Stradley and company have crafted scene-appropriate – and optional – opportunities for audience participation.)
As Imogen from Cymbeline, Satchel Williams laments that she is lost in the woods and "for two nights together [has] made the ground my bed," speaking (almost hidden) from a forested dell with a stream burbling nearby. "This spot off the beaten path helped me lean into Imogen's reality," Williams attests, giving poetic context to the character's wanderings. Even veteran Del Shakes actor Newton Buchanan was surprised at the site. "I thought I'd been all over the Park, but I didn't even know this spot existed."
As Benedick, Buchanan himself has a dandy setting – a gazebo hidden amid shrubbery – where he delivers one of Much Ado's lively ripostes. The audience finds Emily Schuman as Philip the Bastard from King John ("mad world, mad kings, mad composition!") on a large rock in the midst of a grove, while Becky Rusch portrays Puck (A Midsummer Night's Dream) perched amid the twisting limbs of a sprawling tree.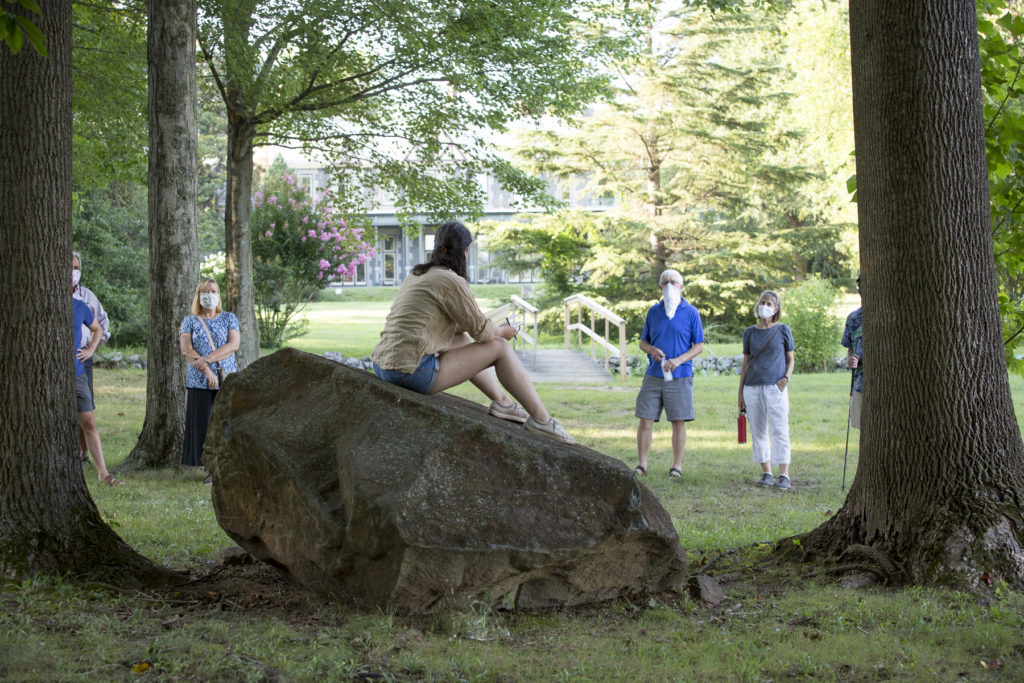 The Park's wildlife also plays a part. Squirrels abound, birds sing, and dogs bark in the distance. In rehearsal, as Rachel O'Hanlon Rodriguez delivered her impassioned Hamlet monologue ("How all occasions do inform against me!"), a majestic raptor swooped fiercely – and dramatically – in and out of her scene.
For the players, the site-specific choices added dimension and context to their stand-alone speeches. And though the Soliloquy Stroll may not generate the accustomed Festival buzz – as hundreds gather on idyllic summer nights – Stradley and his actors believe that the beauty of Rockwood Park combined with Shakespeare's glorious text can still elevate – or soothe.
Delaware Shakespeare Soliloquy Stroll. Rockwood Park, Wilmington, Delaware
Conceived and directed by David Stradley
August 1 and 8, 2020. A presentation of the 2020 Del Shakes [Mostly] Virtual Festival
With Newton Buchanan (Benedick | Much Ado About Nothing); Doug Durlacher (The Porter | Macbeth); Rachel O'Hanlon Rodriguez (Hamlet | Hamlet); Becky Rusch (Puck | A Midsummer Night's Dream); Emily Schuman (Philip the Bastard | King John); and Satchel Williams (Imogen | Cymbeline).
Gail Obenreder (she/her pronouns) is a writer, producer, and arts professional who has lived and worked in Washington DC, New York, Atlanta, Seattle, southeastern Pennsylvania, and Delaware, where she lives in Wilmington. She is a 2016 Fellow of the O'Neill Theater Center's National Critics Institute.