CLICK HERE FOR MORE INFO ON SHAKESPEARE, POE & FIENDS
by Gail Obenreder, Arts Journalist-in-Residence
For the past nine seasons, Delaware Shakespeare has welcomed fall with a dramatic evening of dramatic readings focused on spirits, mystery, and hauntings, huddling audiences together in atmospheric and vaguely sinister sites around the region.
This year there's no huddling, of course – distancing is de rigeur. And so for 2020, Del Shakes Producing Artistic Director David Stradley and his acting company crafted a peripatetic outdoor event at Fort Christina. The historic site along Wilmington's Christina River has plenty of space and a plentiful evocative atmosphere.
On the first Saturday in November, audiences who signed up for a timed slot can stroll the grounds as they wish, crafting a "choose-your-own-adventure" experience during the hour-long presentation. Actors spaced strategically and artistically throughout the site – something for which the company is becoming increasingly noted – will tell six suspenseful stories.
The rock landing at Fort Christina – part of the First State National Historical Park – marks the riverside site where (in 1638) Peter Minuit landed and founded the first Swedish settlement in America. But Del Shakes was determined to also pay homage to its earlier history.
Stradley announced that "we're honored to be joined this year by Adam DePaul, Storykeeper of the Lenape Nation of Pennsylvania, those who were living on the land before Swedish settlers arrived." DePaul, with his repository of tribal tales, will envelop audiences in a telling of a traditional Lenape myth.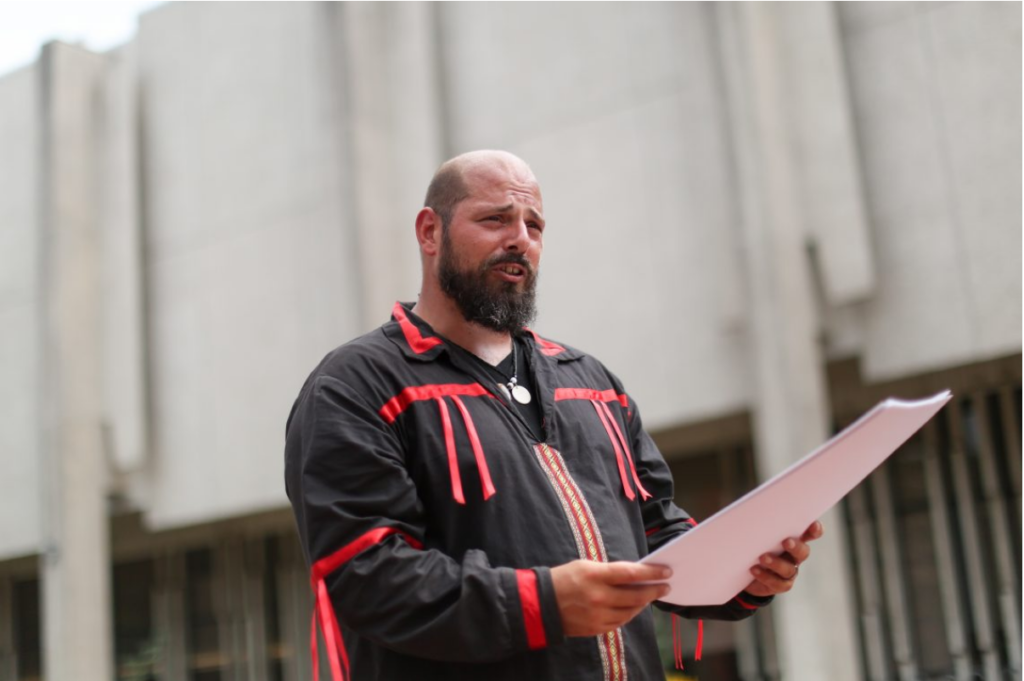 This year, the company has added another local tale. Stradley notes that "Del Shakes Associate Artist Newton Buchanan worked with our friends at the Quaker Hill Preservation Society" to craft stories of Harry Craige (an Underground Railroad pilot living near The Rocks at Fort Christina) and Harriet Tubman, who (along with four Freedom Seekers) was stranded on the other side of the Market Street Bridge. The Underground Railroad, that famous 19th century trail to freedom, was very active in Wilmington and throughout the region.
As Del Shakes Associate Artist Emily Schuman unfolds a Swedish folktale of a water spirit, audiences will see the beautiful reconstructed great ship Kalmar Nyckel visible in the distance. And the event will – as always – feature a moody Shakespeare offering. This year, Minou Pourshariati and Steve Wei will portray the bloody Thane of Cawdor and his lady wife (Macbeth, Act I, scene 7) as they plot regicide and mayhem.
As well as a selection from the Bard, each year's event also features works by that seasonal favorite, Edgar Allan Poe. This year, Del Shakes veteran Gregory Isaac will recite Poe's famous incantatory poem The Raven, while Cassie Alexander, Adaeze Nwoko, and Natajia Sconiers will appear in chilling excerpts from his all-too-timely tale, The Masque of the Red Death.
Poe (1809-1849), one of the first Americans to make his living as a writer, has strong regional connections. He wrote some of his greatest stories – including The Masque, The Tell-Tale Heart, and The Murders in the Rue Morgue – while living in Philadelphia (from 1838 to 1844). Though now revered in the American literary canon, Poe struggled financially and died in penury in Baltimore. Ironically, his 1847 letter to Philadelphia publisher Robert Taylor Conrad begging for payment of "$40 as the sum in which the Magazine would be indebted to me" recently sold for over $125,000 at auction.
Director Matthew Mastronardi, who has directed this popular fall program for the past four seasons, this year worked with the Del Shakes company to reimagine it as an outdoor event. Violinist Amanda Robinson will stroll the grounds, providing autumnal musical atmosphere, and a volunteer from the Kalmar Nyckel will be on hand to answer questions about the site and its history.
Shakespeare, Poe & Fiends: An Autumnal Story Stroll
Delaware Shakespeare – David Stradley, Artistic Director
Directed by Matthew Mastronardi
Featuring Cassie Alexander, Newton Buchanan*, Adam De Paul, Gregory Isaac, Adaeze Nwoko, Minou Pourshariati, Natajia Sconiers, Emily Schuman*, and Steve Wei; with musical guest Amanda Robinson. (*Del Shakes Associate Artist)
Fort Christina, 1100 East 7th Street, Wilmington DE 19801
November 1, 2020 (Rain date November 8). 4 performances, 2-5 pm. $20 adult, $15 youth
Gail Obenreder (she/her pronouns) is a writer, producer, and arts professional who has lived and worked in Washington DC, New York, Atlanta, Seattle, southeastern Pennsylvania, and Delaware, where she lives in Wilmington. A Del Shakes arts writer-in-residence for 2020, Gail is a regular contributor to Broad Street Review and a 2016 Fellow of the O'Neill Theater Center's National Critics Institute.