by Gail Obenreder, Arts Journalist-in-Residence
To end a challenging season – an amalgam of virtual events and safely distanced outdoor presentations – Delaware Shakespeare rounded out 2020 with an online reading of a challenging play, William Shakespeare's Cymbeline. After a year spent offstage, exploring the canon's scenes, monologues, and nooks and crannies, Del Shakes actors read this play in its entirety and in a newly realized contemporary "translation."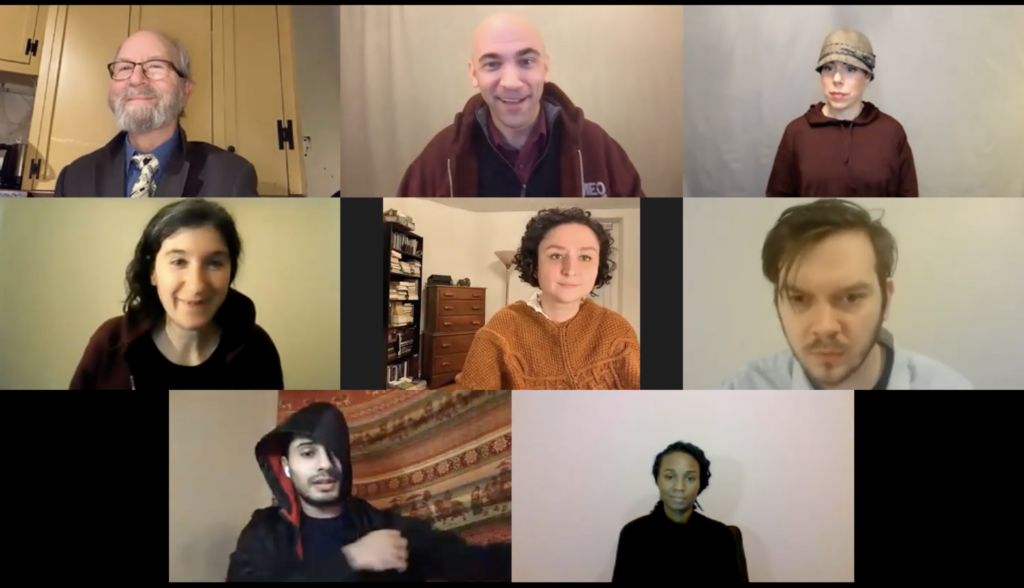 This iteration of Cymbeline was written by contemporary Chilean/Costa Rican American playwright Andrea Thome as part of "Play On Shakespeare," an expansive project that aims to bring the Bard into more current parlance. Begun by the Oregon Shakespeare Festival in 2015, the now-stand-alone nonprofit group has commissioned 36 playwrights to create "translations" of all the Bard's works from their original Elizabethan English.
Though dramatic masterworks in other languages appear regularly in translation on English-speaking stages, when it was introduced, this project was controversial, especially among theatre folk. And Delaware Shakespeare's Producing Artistic Director David Stradley was among them. "At first, I thought the idea of a 'translation' was blasphemous," he noted. But he was converted to the project when – in studying the works of a Czech Shakespearean translator – he realized that "there, they translate the Bard not into 'ancient Czech' but into their contemporary language."
Gradually, Stradley came to believe in the value of this new approach to explore these plays in new ways, not replacing the original works but as an accompaniment to their appreciation and production. So, to close out this Del Shakes season where nothing was the same as before, the decision was made to share a "Play On" translation.
Stradley and Del Shakes' Associate Artists considered several plays before choosing Cymbeline, one of four late works (written between 1608 and 1613) generally designated as the Bard's "romances." To us, that word connotes love and courtship, but that is really a post-Shakespearean usage. In the First Folio – where the plays were first published – there are no "romances" listed. There, Shakespeare's pals and fellow actors John Heminge and Henry Condell (who gathered the Bard's scattered playscripts) grouped and published the works as "Mr. William Shakespeare's Comedies, Histories, & Tragedies."
Cymbeline, King of Britain was originally classified in the tome (named for its folio-sized pages) as a tragedy. The play is loosely based (very loosely, as was often Shakespeare's wont) in history – the tale of an ancient King of the Britons, Cunobeline, who ruled during the time of the Caesars. Cymbeline banishes his daughter Imogen because he disapproves of her marriage to a heroic commoner. The enormously complex plot features a wicked stepmother, a lecherous heir to the throne, and a total of 36 characters as it zooms (pun intended) around Europe, featuring some particularly corrosive and jingoistic portraits of Italians!
This Zoom reading by eight Del Shakes actors was directed by Cassie Alexander, who used subtitles and simple prop hand-offs and costume-piece changes to clarify each character and their actions during the play's three hours. And there were no cuts; the actors read every one of Thome's words in a translation that followed Shakespeare's text quite closely, keeping the rhythmic flow and poetic overtones of the original.
In their introductory remarks, director Alexander and Stradley said that – along with many of their theatre colleagues – they both love these late romances. The plays are especially complex, filled with journeys, people torn apart, magical reunions, and fantasy sequences (in Cymbeline, Jupiter descends from the clouds for a classic deus ex machina moment). The duo suggested that in viewing this presentation, audiences not follow along with the original text but allow the story to unfold as it's told by Thome to experience the impact of her contemporary language.
This was not a ticketed event, and the pay-what-you-will proceeds (about $700) were donated to the nonprofit Latin American Cultural Center, one of Del Shakes' community partners.
Overall, there were 40+ viewers in and out of the Zoom room for the reading, and Stradley was heartened that "30 of them watched the whole thing – all three hours!" There was little time for audience feedback, but it seemed that Thome's skillful translation made the action a little easier to follow, welcome in this intricate story.
In preparing the play, it was a surprising realization for Alexander and Stradley that they couldn't follow one of their normal Shakespeare-production pathways. "The one thing we couldn't do is make further cuts or slight word edits, as you normally do with Shakespeare. Since a modern playwright had crafted this version, we of course respected all their choices instead of making our own."
Another reason to present a "Play On Shakespeare" piece was to see how working on a translation affected the actors. Because of technical glitches, Stradley jumped in to read some parts unrehearsed, noting that "the modern text certainly made it easier to sight-read." The actors' consensus was that Thome's work allowed for a very clean telling of a complex tale, though some missed the challenge of working on Shakespeare's meaty text. But in general, the company felt that the rich physicality of Thome's text was akin to speaking the original words, and they felt that Shakespeare was amply present.
As she worked on directing the play, Alexander felt that the ancient tale of Cymbeline held a new and (for her) unexpected relevance: "Impossible things are made possible at the end of this play, and that keeps allowing me to hold on to hope."
Cymbeline, by William Shakespeare
In a Modern Verse Translation by Andrea Thome
Commissioned by Oregon Shakespeare Festival and now part "Play On Shakespeare" project
Directed by Cassie Alexander
Featuring Eunice Akinola, Guillermo Alonso, Newton Buchanan*, Paul Harrold, Annette Kaplafka, Minou Pourshariati, Emily Schuman*, and Bob Weick. (*Del Shakes Associate Artist)
Virtual Reading on Zoom, December 5, 2020
Gail Obenreder (she/her pronouns) is a writer, producer, and arts professional who has lived and worked in Washington DC, New York, Atlanta, Seattle, southeastern Pennsylvania, and Delaware, where she lives in Wilmington. A Del Shakes arts writer-in-residence for 2020, Gail is a regular contributor to Broad Street Review and a 2016 Fellow of the O'Neill Theater Center's National Critics Institute.