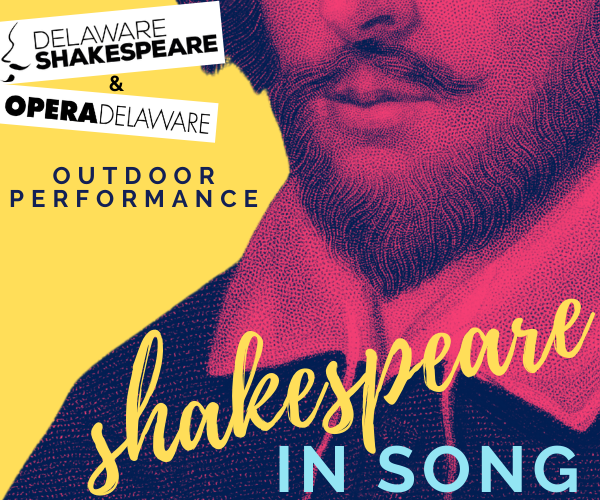 May 20, May 21, May 22, and May 23 at 8pm
Where: Parking lot of the OperaDelaware Studios (4 S. Poplar Street, Wilmington, DE)
Tickets: $30 Per Person
Seating: This is a bring-your-own chair event
We're excited to be back with a live, outdoor performance – joined by our friends at OperaDelaware. Shakespeare has inspired hundreds of composers over the years. In this wonderful sampler, Del Shakes actors will bring the original source material to life while OD soloists will give thrilling voice to the operatic equivalents.
The evening will be bursting with delight – featuring scenes from Romeo and Juliet, The Tempest, A Midsummer Night's Dream, Macbeth, Twelfth Night, and The Merry Wives of Windsor – with music by Britten, Debussy, Gounod, Verdi, and more!
Estimated run time: 75-90 minutes with one intermission
COVID-19 SAFETY PROTOCOLS
To ensure your safety and that of our artists and staff, only a limited number of patrons will be allowed in the parking lot for each performance. Our outdoor concerts usually sell out in advance, so we encourage you to buy early.
This is a bring-your-own-chair event. Parties of up to 4 people who purchase tickets together in a single order will be seated in designated areas that allow for best visibility and sound while maintaining a safe distance of 6 feet or more from other groups. Parties will be assigned seating areas in the order in which they arrive. We can only guarantee that patrons are seated together if tickets are purchased together in a single order.
Please follow social-distancing guidelines. Patrons are required to wear masks except when sitting in their designated seating areas or when eating/drinking.
Patrons are welcome to bring refreshments, but please expect to take your trash with you.
In case of inclement weather, performances may be rescheduled. Please monitor your inbox for updates on the day of the event.
This performance is designed in accordance with recommendations outlined by the Delaware Division of Public Health. Artists and staff will adhere to safety precautions and social-distancing guidelines as recommended by the Delaware Division of Public Health and the CDC. These rules are subject to change as the state issues updated guidelines. Please monitor your inbox and delshakes.org for updates and changes regarding this performance, if necessary.