TOUR PERFORMANCES / RECORRIDO DE PRESENTACIONES
STUDIO PERFORMANCES / PRESENTACIONES DE ESTUDIO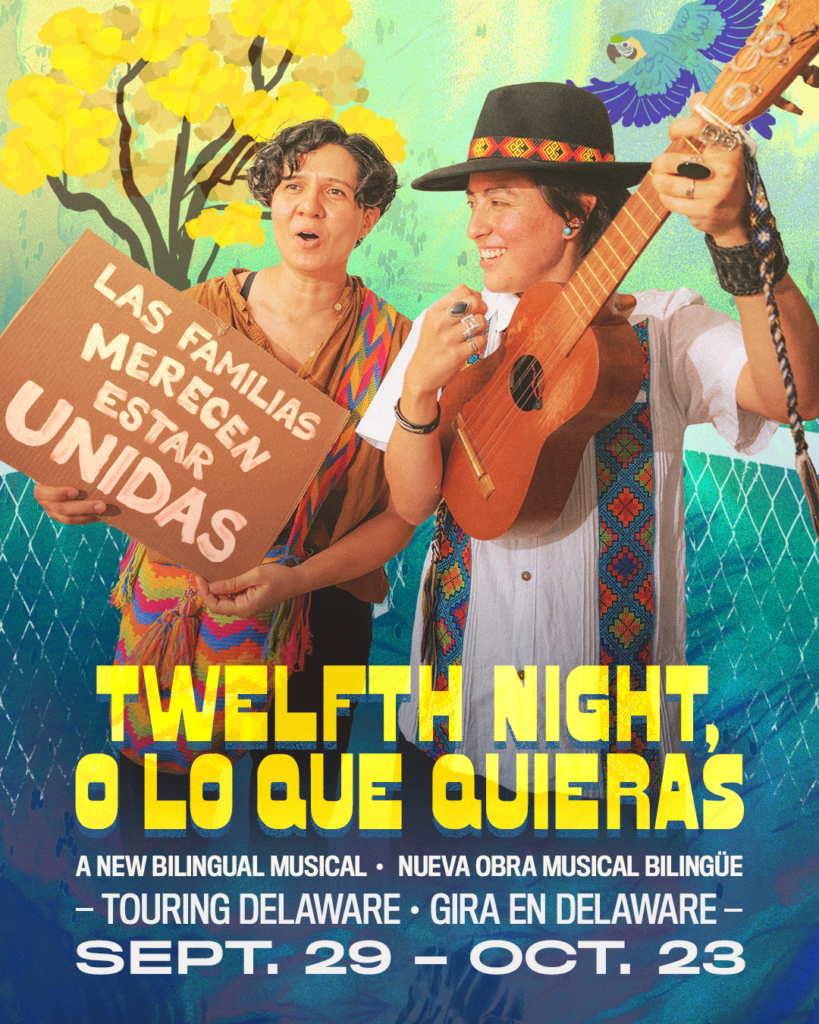 A new bilingual musical by Liz Filios and Tanaquil Márquez
With contributions by Robi Hager, Patricio Hidalgo, and Ximena Violante
Nueva obra musical bilingüe con Liz Filios & Tanaquil Márquez
Con las contribuciones de Robi Hager, Patricio Hidalgo, y Ximena Violante
Violeta and Sebastian, twins from Venezuela, are separated in a shipwreck and must find their way in Illyria, a land somewhat similar to contemporary America.
The adaptation of Shakespeare's romantic comedy aims to celebrate the stories of Latinx immigrants and ask us what we can do to create more equitable conditions for people seeking a better life on our shores. With love, joy, and music!
Violeta y Sebastián, gemelos de Venezuela, han sido separados en un naufragio y cada uno tiene que encontrar su camino en Illyria, una tierra algo similar a la América de hoy.
El objeto de la adaptación de la historia romántica de Shakespeare es celebrar historias de emigrantes Latinx, la cual nos pregunta ¿Que podríamos hacer para crear condiciones equitativas para personas que buscan una mejor vida en nuestra tierra?  ¡Con amor, alegría, y música!
RUNNING TIME: 2 1/2 hours (including a ten-minute intermission)
SNEAK PEEKS
Izzy Sazak (Violeta) shares a portion of "La Cabaña de Sauce"- the musical setting of Viola's "Make me a willow cabin at your gate" speech in which Violeta (in disguise as Cesario) shares with Olivia how "he" might woo Olivia.
Ximena Violante (Feste) sings "Feste's Song." In Shakespeare's play, Feste is a clown. In our musical, Feste is an entertainer and an organizer for migrant justice.
ABOUT THE DELAWARE SHAKESPEARE COMMUNITY TOUR
Delaware Shakespeare launched its new Community Tour in Fall 2016 with Pericles, Prince of Tyre and has followed that up in subsequent years with As You Like It, The Merchant of Venice, and Romeo and Juliet. The productions travel throughout the state bringing thrilling, professional Shakespeare to audiences who may not have easy access to professional arts experiences..
Community Tour productions play in non-theatrical settings such as multipurpose rooms, cafeterias, and gymnasiums. The production values are scaled for those spaces, with live music, minimal sets, and whatever lighting is available. The productions are performed with a cast of eight-to-nine actors and a musician.
WATCH VIDEOS ABOUT THE 2017 & 2016 COMMUNITY TOURS BELOW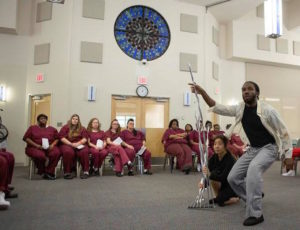 The Community Tour is based on the innovative performance model of Ten Thousand Things, a Minneapolis theater company that has been bringing professional theatre, including Shakespeare, to people with little access to the wealth of the arts for more than 20 years. Delaware Shakespeare is proud to be part of the TEN THOUSAND THEATERS MOVEMENT, a recent group of theatres, including three of the most prestigious Shakespeare companies in the United States, that are adapting the model for their own communities.
SaveSaveSaveSave
SaveSave
SaveSave
SaveSave