Due to the ongoing public health concerns related to COVID-19 and feedback from our Community Tour partners, Delaware Shakespeare has made the decision to postpone our world premiere bilingual musical adaptation of TWELFTH NIGHT, originally planned for October 2020, until the fall of 2021. CLICK HERE for more information.
TOUR PERFORMANCES
STUDIO PERFORMANCES
A new bilingual musical by Liz Filios
In collaboration with Robi Hager and Tanaquil Márquez
DEL SHAKES' FIRST NEW WORK!
DEL SHAKES' FIRST MUSICAL!
DEL SHAKES FIRST NEW MUSICAL!
October 2021
This new adaptation of Shakespeare's all-time great romantic comedy reimagines Viola and Sebastian as Latinx immigrants whose shipwreck brings them ashore in Illyria. This bilingual musical will ask the question, "Can you survive through love?"
The Community Tour will once again bring high quality Shakespeare performances to the full spectrum of humanity in our state, by traveling to non-traditional locations such as homeless shelters, prisons, and community centers.
ABOUT THE DELAWARE SHAKESPEARE COMMUNITY TOUR
Delaware Shakespeare launched its new Community Tour in Fall 2016 with Pericles, Prince of Tyre and has followed that up in subsequent years with As You Like It, The Merchant of Venice, and Romeo and Juliet. The productions travel throughout the state bringing thrilling, professional Shakespeare to audiences who may not have easy access to professional arts experiences..
Community Tour productions play in non-theatrical settings such as multipurpose rooms, cafeterias, and gymnasiums. The production values are scaled for those spaces, with live music, minimal sets, and whatever lighting is available. The productions are performed with a cast of eight-to-nine actors and a musician.
WATCH VIDEOS ABOUT THE 2017 & 2016 COMMUNITY TOURS BELOW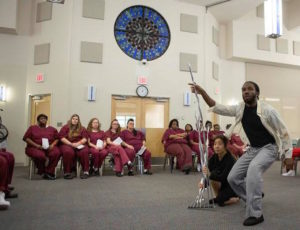 The Community Tour is based on the innovative performance model of Ten Thousand Things, a Minneapolis theater company that has been bringing professional theatre, including Shakespeare, to people with little access to the wealth of the arts for more than 20 years. Delaware Shakespeare is proud to be part of the TEN THOUSAND THEATERS MOVEMENT, a recent group of theatres, including three of the most prestigious Shakespeare companies in the United States, that are adapting the model for their own communities.
SaveSaveSaveSave
SaveSave
SaveSave
SaveSave