October 24-November 18, 2018
The Sunday, November 18 performance is SOLD OUT. A wait list will be started at OperaDelaware at 1:30pm.
CLICK HERE FOR TOUR SCHEDULE
CLICK HERE FOR STUDIO PERFORMANCES
CLICK HERE FOR PRE-SHOW GUIDE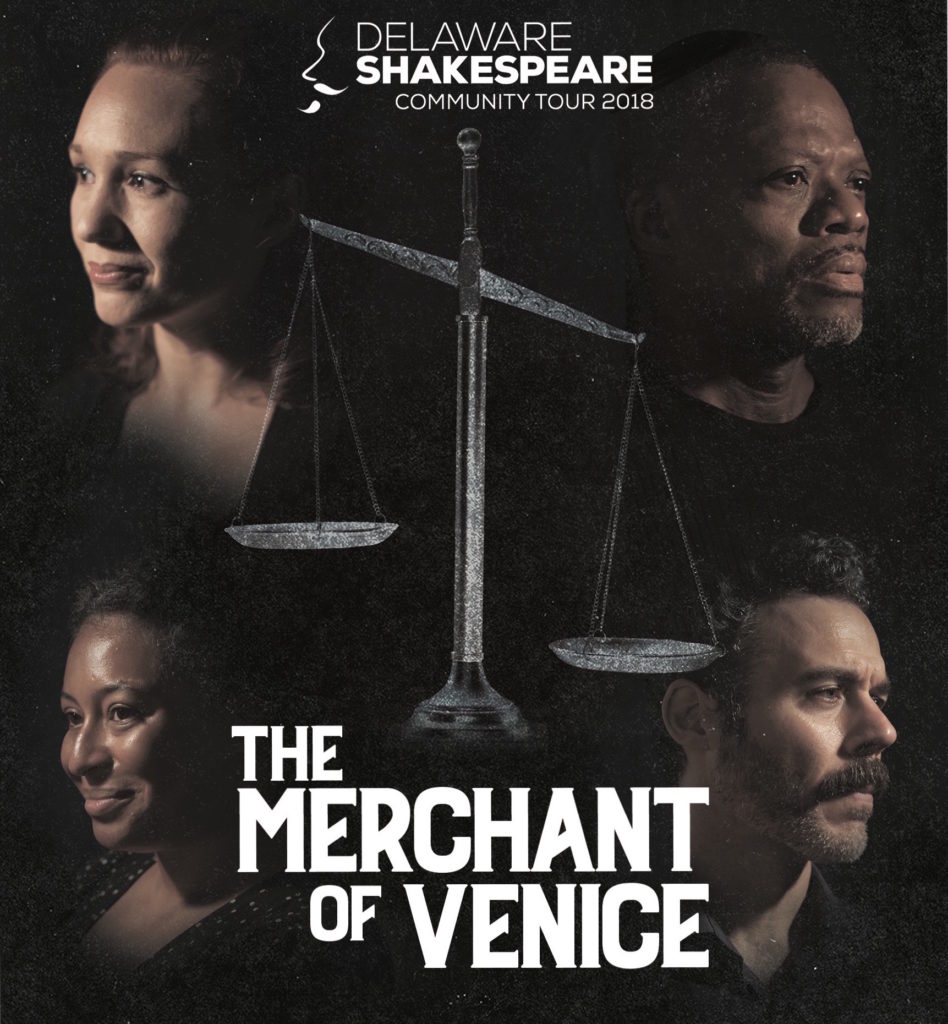 As a community struggles with questions of what it values and what it loves, a Jewish father is thrust into direct conflict with the powers that be in Venice.
The Community Tour returns this fall with Shakespeare's multi-layered drama about the corrosive impact of anti-Semitism and xenophobia. The performance aims to be part of a community conversation about how we can ensure that those who are looked on as different are not treated unjustly.
The Community Tour will once again bring high quality Shakespeare performances to the full spectrum of humanity in our state, by traveling to non-traditional locations such as homeless shelters, prisons, and community centers.
ABOUT THE DELAWARE SHAKESPEARE COMMUNITY TOUR
Delaware Shakespeare launched its new Community Tour in Fall 2016 with Pericles, Prince of Tyre and followed that up in Fall 2017 with As You Like It. The productions traveled throughout the state bringing thrilling, professional Shakespeare to audiences who may not have easy access to professional arts experiences..
Community Tour productions play in non-theatrical settings such as multipurpose rooms, cafeterias, and gymnasiums. The production values are scaled for those spaces, with live music, minimal sets, and whatever lighting is available. The productions are performed with a cast of eight-to-nine actors and a musician.
WATCH VIDEOS ABOUT THE 2017 & 2016 COMMUNITY TOURS BELOW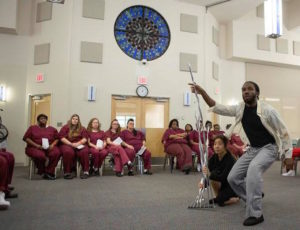 The Community Tour is based on the innovative performance model of Ten Thousand Things, a Minneapolis theater company that has been bringing professional theatre, including Shakespeare, to people with little access to the wealth of the arts for more than 20 years. Delaware Shakespeare is proud to be part of the TEN THOUSAND THEATERS MOVEMENT, a recent group of theatres, including three of the most prestigious Shakespeare companies in the United States, that are adapting the model for their own communities.
Community Tour 2018 Leadership Sponsor: Danaher Lynch Family Foundation
SaveSaveSaveSave
SaveSave
SaveSave
SaveSave