Delaware Shakespeare offers summer internships for high school actors who are interested in learning more about Shakespeare and being a part of a wonderful Delaware summer tradition. This is an incredible opportunity to be a part of our Summer Festival, getting an inside view of a professional theatre company working on one of the greatest plays ever written.
Overview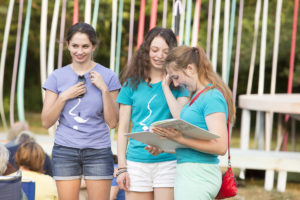 High school interns serve as Wandering Bards, entertaining audience members during the pre-show picnic period.
Responsibilities
All high school interns are asked to:
Create and perform improv-based Shakespeare entertainments that are part of the pre-show Festival activities (1-2 times a week)
Volunteer at least one other time a week during the three weeks of the Summer Festival
Rehearsals are in June and July. Summer Festival runs July 15-31, 2022.
COVID-19 Protocols
Interns will be required to follow company COVID safety procedures, possibly including daily health surveys, masking, and testing.
To Be Considered
Download the High School Intern Application. Email the completed form to David Stradley at david@delshakes.org.
Original application deadline was May 16, 2022. DEADLINE HAS BEEN EXTENDED and we are still accepting applications! We'll find a time for an in-person or Zoom audition, or invite you to send a video audition consisting of a 1-2 minute Shakespeare monologue (preferably via a YouTube or Vimeo link).