Application procedures will be announced February 2022.
Delaware Shakespeare offers summer internships for high school actors who are interested in learning more about Shakespeare and being a part of a wonderful Delaware summer tradition. This is an incredible opportunity to be a part of our Summer Festival, getting an inside view of a professional theatre company working on one of the greatest plays ever written.
Overview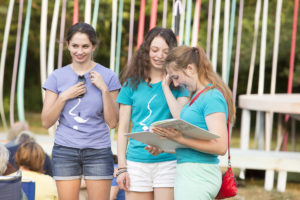 High school interns serve as Wandering Bards, entertaining audience members during the pre-show picnic period.
Responsibilities
All high school interns are asked to:
Create and perform improv-based Shakespeare entertainments that are part of the pre-show Festival activities
Volunteer at least once a week during the three weeks of the summer festival
Assist in promotional activities