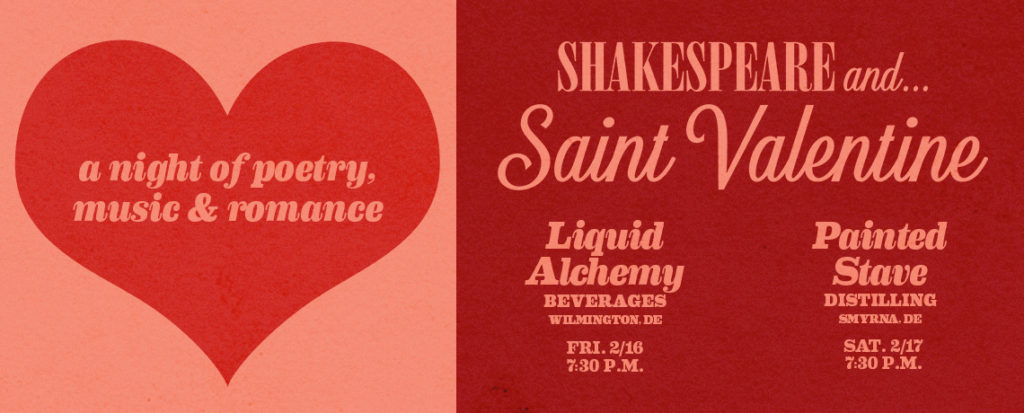 "If thou wilt deign this favour, for thy meed
A thousand honey secrets shalt thou know:
Here come and sit, where never serpent hisses,
And being set, I'll smother thee with kisses."
– "Venus & Adonis"
Shakespeare + St. Valentine returns with spirits, ciders, and mead
along Delaware's Beer, Wine & Spirits Trail!
Delaware Shakespeare actors will distill your hearts with a delightful mix of readings, sonnets, and songs, brewed together for a romantic concoction that's a perfect way to celebrate Valentine's Day!
This light-hearted (and occasionally bawdy) performance will play at two venues notable for their potent potables: Liquid Alchemy in Wilmington and Painted Stave in Smyrna! The performance lasts approximately 75 minutes.
Liquid Alchemy Beverages
Friday, February 16 at 7:30pm
28 Brookside Drive
Wilmington, DE 19804
(R&J Package Sold Out for this performance)
Painted Stave Distilling
Saturday, February 17 at 7:30pm
106 W. Commerce Street
Smyrna, DE 19937
(R&J Package Sold Out for this performance)
Tickets – $25
Includes one drink
"Romeo and Juliet" Package – $80
ALL R&J PACKAGES ARE SOLD OUT
Includes admission for two, preferred seating, two drinks per person (including one very special creation from the bar), and a Shakespeare sonnet performed for your date pre-show at your table. (Only four R+J Packages sold per performance.)
SaveSave
SaveSave