DSF's Producing Artistic Director David Stradley will be directing this summer's THE COMEDY OF ERRORS. He's writing a blog entry each month to let DSF's fans into the creative process behind the production.
We started auditions this month for The Comedy of Errors (our session to complete casting was canceled by the blizzard, so final decisions will have to wait another week or so until I get back from the Shakespeare Theatre Association conference in South Bend). I quickly realized that this is going to be a very tricky play to cast.
Normally, you have your 2-3 roles that you know the success of the production will revolve around. You audition several people for each role, looking for the unique combination of personality, skill, and instinct that sparks you as the director to say, "Yes, this person is just right!" With The Comedy of Errors and its two sets of identical twins, you are looking for all those things – and then you have to hope there are two people that have that mesh of everything you are looking for, and that they look alike! Not an easy task!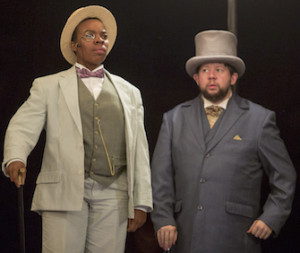 As part of DSF's mission is to bring a broad mix of the community together to experience the plays, we also aim to have a broad mix of the community represented on the stage. We're trying to have more racial diversity on stage and more gender equity. With race, you have a choice to make whether you want to go in the direction of complete color-blind casting (in which case it's okay to have siblings or parents and children of different races) or more in the direction of color-conscious casting (where you look to cast diverse actors, but, among other things, still keep biological reality in mind). I'm learning more towards color-conscious casting, but it will really depend on the actors who end up walking in the room. I've certainly seen brilliant Shakespeare productions where siblings were all colors of the rainbow.
With gender, it seems to be a fact of auditions that about two times the number of women than men submit their headshots and resumes to be considered for casting. There are so many talented female actors out there, I always look to see if there are traditional male roles that we could cast with female actors. In The Comedy of Errors, for instance, it might make sense to cast the Duke as a woman. We've got two women running for president right now, after all!
The other thing that starts happening once you head into auditions is learning about how the play works. With The Comedy of Errors, I've been learning about how the comedy works. Some actors were coming in and playing things very outlandishly. The Comedy of Errors has a bad reputation of being a farce. And while it is an undoubtedly wild play of crazy circumstances, there is also a lot of humanity in the play. There is pain, confusion, heartbreak, and strife. That all should feed the comedy – not be ignored. When the actors came in and played things outlandishly, I found myself not caring about what was going on and not finding it funny. But when those same actors shifted and invested in the human circumstances of the play, I was moved and I was laughing! You can do both.
I'm always very grateful to the actors who come out and audition (and we'll see about 80-100 actors for the 9-10 professional actors we cast in The Comedy of Errors). Their generosity of spirit and willingness to play allows me the great luxury of figuring out how the play behaves on its feet and what things will be important in giving the audience the best possible experience with the production. These are things I can't possibly know while studying the script on my own.
My hope is that the audience for DSF's The Comedy of Errors finds the play wildly funny but also surprisingly meaningful. And the process for figuring out how we will accomplish that starts in auditions.
The Comedy of Errors Director's Blog – Other Entries
May 2016
April 2016
March 2016
December 2015
November 2015