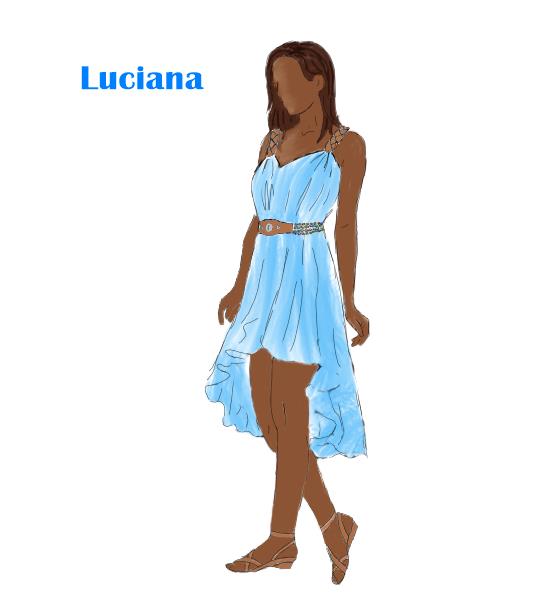 DSF's Producing Artistic Director David Stradley will be directing this summer's THE COMEDY OF ERRORS. He's writing a blog entry each month to let DSF's fans into the creative process behind the production.
(All renderings by Sarah Mitchell)
As I write this, we are only about six weeks from heading into rehearsals for The Comedy of Errors. Visions are starting to finalize. I wrote in my last entry about the initial discussions with our costume designer this summer, Sarah Mitchell. We have since had many more back and forths in an exciting journey to develop the looks for each character.
We settled on the looks pretty quickly for the sisters, Adriana and Luciana. They both have flowing looks that are somewhat modern, but hopefully still have a feeling of a mythic, timeless past. Luciana was complete in one draft. With Adriana, we worked on simplifying the look slightly. Instead of a realistic Turkish inspired pattern, we went with a look instead that involves one bold patterned choice.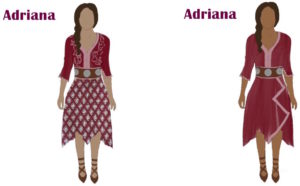 That helped to establish our vocabulary – that we were going to go for simple and bold rather than grounded in historical style.
One of the other fun discussions with this play is, "How identical do the twins need to be?" It's rare that actual identical twins are cast, and we don't have twins in our production. A theatrical shorthand has developed around Shakespeare's "twin" plays (The Comedy of Errors and Twelfth Night) – if you put them in the exact same clothes, the audience will make the leap and believe that they are twins. We're following that tradition to an extent.
With the Dromios, Sarah's initial instinct was to have them in the exact same pieces (Turkish-inspired pants, striped t-shirt, and vest). Ephesus has a wild, colorful reputation, so Sarah wanted to show that by having the Ephesian twin be more colorful (two-colored striped shirt, two highlight colors on the vest). To me, that did't look quite "twin" enough and I asked Sarah to explore a look that showed a more direct connection between the two Dromios. She came back with a design that had them both in single-colored striped shirts, but that they each had a different color stripe. The vest then had both these highlight colors, but the patterns those colors highlighted flip-flopped on the two vests.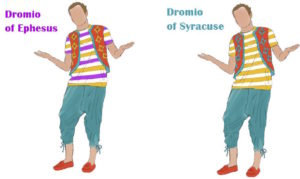 We both enjoyed this approach and it informed how we then worked on the Antipholus twins.
Now that we have a set and a costume design, my next step is to start working with the script in a more detailed way. I will go through and analyze each character's objective for each scene and how that might translate into stage movement. Although that movement won't be prescribed to the actors, it helps me feel prepared to go into rehearsals and gives me a new perspective on the play. That is the work for May!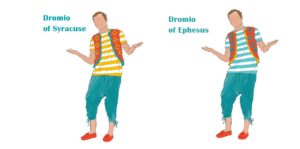 The Comedy of Errors Director's Blog – Other Entries
May 2016
March 2016
January 2016
December 2015
November 2015