Professional actors spend their lives training and working on their craft, so that they are able to deliver a wonderful experience to you on the night you attend a performance. Emilie Krause, who will be playing Henry for Delaware Shakespeare this summer, is currently studying at Canada's National Voice Intensive for a month. As an audience member, you will reap the benefits of this heavily Shakespeare-based training program. Emilie will share some periodic thoughts with us, connecting what she is learning at the Intensive to what she hopes to apply on stage for you this summer.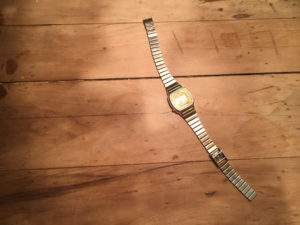 I have been thinking about Time. It waits, patiently, at the top of my computer screen. It's blinking at me from the microwave. It wraps its golden, Casio arms around my wrist every morning when I get out of bed. Recently, I have been spending my minutes, hours, and days away from home. I have been gone for four months, which is the longest I have ever been out of the Philadelphia region. And so, I've been thinking about Time.
The first portion of my absence was spent working on a production of Chekhov's Three Sisters in Washington D.C., where each day was centered around the organization of time; the 25 minutes it took me to set my hair into pin-curls, the mercurial length of the commute to the theater, and the hour I spent before the show warming up my body and voice, lacing up my corset, and becoming Irina Sergeyevna Prozorova, the youngest of the titular three sisters. The show would begin at 7:30 PM every night, and each minute of my day was carefully structured around arriving backstage, waiting and ready at exactly 7:30 PM. The whole day rested on this one, specific moment of time.
Two days after the play ended, I began a 4000 mile drive across the country, helping a friend move to their new home in Portland, Oregon. The first portion of the trip was an overnight marathon to Chicago, Illinois; a lengthy drive that takes something like thirteen hours if you're lucky. We left Philadelphia at 10:30 PM, and the second my foot hit the gas pedal, my relationship with Time shifted. After three months of obediently going to sleep every night and waking up every morning, I spent the night behind the wheel and instead of ending a day, I began a new one. Along the way we camped in National parks, so there was no urgency to arrive at a particular hour of the day. Our only gauge of "good" or "bad" timing was whether or not we arrived at a campsite while there was still enough light for us to set up the tent. Time became a fluid thing, and as we sped through time zones and rumbled down remote dirt roads, Time's authority began to slip away, and I stopped looking at the Casio on my left wrist altogether.
The last leg of my journey brings me to Toronto, Ontario where I've begun the National Voice Intensive, a month-long workshop focused on developing the voice, and on deepening an actor's relationship to text, specifically, the text of William Shakespeare. (Which, as a side note, is an incredibly serendipitous gift from the Universe for an actress who is about to step into some pretty big, Shakespearean shoes.) The program asks a lot of its participants, and the rigor and specificity of the training demands that we step away from other parts of our life. We are heavily encouraged to leave our cell phones at home and are asked not wear jewelry, so my golden watch spends the day in the pocket of my tote bag instead of on my wrist. I am cut off from Time. In preparation for the Intensive we were asked to memorize Sonnet 64, and we spent one of our first classes comparing the sonnet as it was originally published in Shakespeare's time to the sonnet as it is published today. Much about the poem has changed over the years, the spelling and punctuation have been adjusted to comply with modern standards, and even the sentence construction has been rearranged. But for me, the most interesting difference between the versions of the poem was Shakespeare's use of capitalization.  When you look at the original versions of Shakespeare's texts, you find that the sentences are riddled with surprising capital letters. In Sonnet 64, one of the oddly capitalized words is…. time.
"Ruine has taught me thus to ruminate
That Time will come and take my love away."
These proper nouns led to an interesting discussion in class that taught me something I hadn't known about language during the 16th century. At that time, a noun was not simply a noun. Some nouns carried more weight than others, and words like "ocean", "kingdom" and "time" would sometimes be capitalized. Raising the status of these words does a funny thing. When a word is capitalized, it begins to take on a different aspect, to have desires of its own and a different sort of agency than a normal noun. It becomes, in a way, human. When I look back on the past four months I've spent away from Philadelphia through 16th century eyes, I begin to see that leaving behind my normal routine has shaken up my relationship to Time. Time has been my consistent companion, and on this trip I have gone from obeying Time's every request, to asking Time to leave me alone, and these days I've been abandoning Time on the counter as I head off to class. I knew this subconsciously, I had been sensing a shift in how I encounter the day, but I wasn't able to see this clearly until I was staring at that capital "t," until I was looking at Time directly in the face.
As I prepare to play Henry later this summer, I'm beginning to think about words. Not just what words mean, the definitions that you can find in a dictionary, but what words mean to Henry. What words mean to me.  If you crack open the original versions of Shakespeare's plays, you encounter what words meant to people in another century, when the Ocean might have thoughts and feelings and when Time might come and take one's love away. I am excitedly grateful to have these clues, these unexpected, curious capital letters to help me settle into the shoes of a king of England, six hundred years before me and my unruly Time.