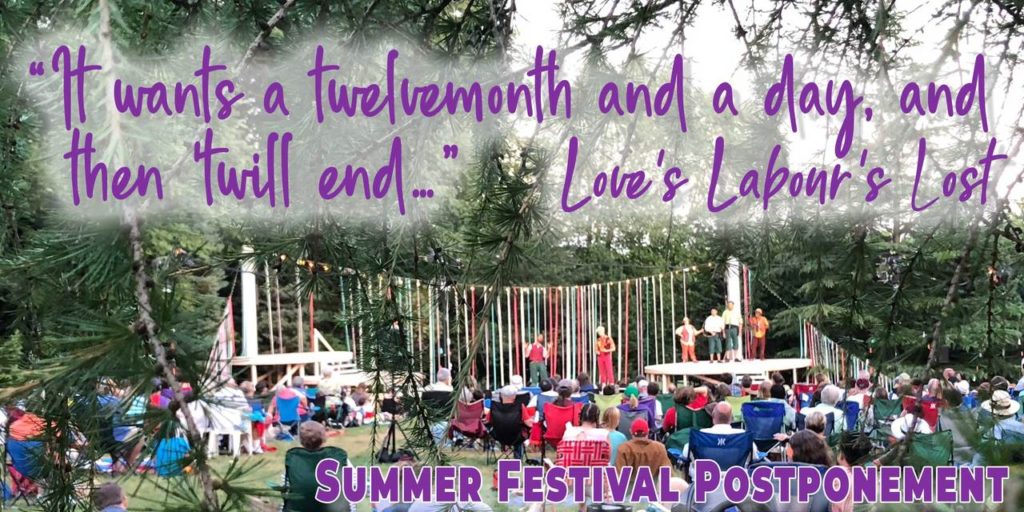 As a result of the guidelines in place to reopen Delaware's economy, and of the overall public health climate surrounding the COVID-19 pandemic, Delaware Shakespeare's board and staff have made the decision to postpone this summer's production of The Tempest until the summer of 2021.
"The Delaware Shakespeare Summer Festival means so much to so many people, and we're sorry to deliver this disappointing news," said David Stradley, Producing Artistic Director. "Our audience's affection for Del Shakes and the Rockwood Park experience is tangible. We look forward to gathering as a community again next summer, or sooner, if public health conditions allow."
Based on the benchmarks Governor John Carney has put in place to reopen Delaware's economy, the earliest Delaware would enter Phase Two would be June 15 – one day before Del Shakes was to welcome more than thirty artists to start rehearsing The Tempest. Phase Two still requires physical distancing in work environments and at public gatherings. There is simply no way to safely gather thirty artists in an indoor studio for an active rehearsal process while still maintaining physical distance.
"Before we can welcome an audience, we first have to welcome artists," said Julie Russ, Board President. "The health of our artists was the leading guidepost for this decision. But the financial realities of performing to radically reduced crowds were also daunting, and Delaware Shakespeare has always carefully stewarded its resources. We are acting now to ensure the financial resources are in place to continue creating great theatre for many years into the future."
Performances of The Tempest were to begin July 17. Even in the most optimistic projections of the state's phased openings, physical distancing recommendations are likely to still be in place, and a recent poll of Del Shakes audience members showed that a majority would expect to see physical distancing measures in place to feel comfortable watching a performance at Rockwood Park.
Physical distancing would reduce the audience size at Rockwood to 30 percent of its normal capacity.  Delaware Shakespeare is unable to create the planned production of The Tempest in a fiscally responsible manner with only one-third of budgeted ticket sales.
All professional artists, crew and summer staff have been compensated for their time to date working on The Tempest and to show appreciation for their commitment to Del Shakes. Current holders of Festival Passes and Two-Show Packages will be contacted to discuss their options.
Delaware Shakespeare is developing creative ways to celebrate and uphold the traditions its audiences love about the Summer Festival, including picnicking, family nights, fun fact signs and the beloved annual t-shirt design.
In addition, Delaware Shakespeare is developing contingency plans for a smaller-scale event that could be offered at Rockwood Park if public health conditions allow.
Shakespeare-loving fans can view Del Shakes actors reading sonnets each weekday in videos posted on Facebook, Instagram and YouTube, as well as participate in online salons such as this Saturday's "Tales from Tour, Vol. 1," a Zoom discussion with three veteran actors from Del Shakes Community Tours.
"We're so grateful for the support and understanding of our audience," said Stradley. "Summer Shakespeare will be back. Together, to quote the Bard, 'we are such stuff as dreams are made on.'"