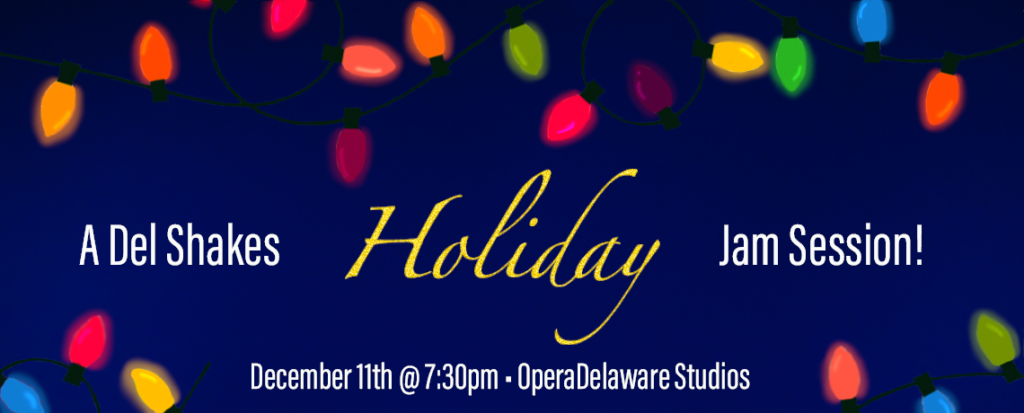 TICKETS – $20
Favorite Del Shakes artists welcome you to a "pot luck"-style performance. Each artist will share 2-3 contributions that they love – poems, songs, monologues, stories, etc. Think of it as a warm gathering around the hearth, with really talented houseguests!
Featuring the Del Shakes Artistic Squad: Newton Buchanan, Rachel O'Hanlon-Rodriguez, Izzy Sazak, and Emily Schuman.
Special guests: Peter Vitale, musical director of Ten Thousand Things in Minneapolis, and Ximena Violante, Feste and musical consultant for our 2022 adaptation of Twelfth Night.
OperaDelaware Studios
4 S. Poplar Street
Wilmington, DE 19801
Emily will be sharing some original Shakespearean sonnet inspired songs with us.
Izzy will be giving us a sneak peek of a new original song from the Del Shakes 2022 musical adaptation of Twelfth Night.
From Newton we'll be hearing some holiday crooning and his classic Newton joviality! 
Rachel will be showcasing original poetic adaptations of Shakespeare's sonnets and also telling a story of the Puerto Rican holiday food tradition of pasteles! 
Ximena Violante plays violin and jarana, a Mexican instrument that is key to the folk music tradition of Son Jarocho. We're so excited that they will be playing Feste and serving as musical consultant for Del Shakes' upcoming bilingual musical adaptation of Twelfth Night. During the Jam Session, you'll get to learn more about Son Jarocho music and hear some songs written by Ximena's band, Interminable.
The Del Shakes Community Tour is based on the work of Ten Thousand Things Theater in Minneapolis. Peter Vitale is TTT's musical director – and we're honored that he'll also be the musical director for Twelfth Night. At the Jam, Peter will help share a few songs from Twelfth Night, as well as an arrangement of one of his favorite songs – "Solstice Carol."
COVID-19 PROTOCOLS: At this time, proof of fully vaccinated status or a negative COVID-19 PCR test administered within 72 hours will be required for entry. Masks will also be required, regardless of vaccination status, except while actively eating or drinking.